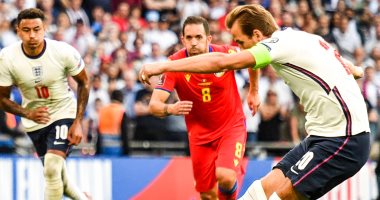 England's victory over Andorra by four goals without a response, with many distinctive numbers, for the Three Lions, in the match that brought the two teams together, on Sunday evening, at Wembley Stadium in the British capital, London, as part of the fifth round of Group I of the European qualifiers for the finals. World Cup 2022.
With this result, the England team continues to lead the group with a full score of 15 points, after winning all five matches, while Andorra is in fifth place with 3 points..
Here are the highlights of England's victory over Andorra.
Harry Kane equaled the number of former Liverpool star Michael Owen as the fifth best scorer in the history of the England national team with 40 goals after each of:
1- Wayne Rooney – 53 goals, 2- Bobby Charlton – 49 goals, 3-cAri Lineker – 48 goals, 4- Jimmy Greaves – 44 goals.
Patrick Bamford, who turns 28 today, is the first player to make his England debut on his birthday since Johnny Nichols against Scotland in April 1954, and Nichols scored in England's 4-2 victory that day.
– Jesse Lingard scored his first goal for England since November 2018 against Croatia, 1022 days ago, all of his last three goals with the national team came at Wembley Stadium
– Jesse Lingard scored goals with the England national team today (2), as he scored in his previous 16 matches in all competitions combined with the Three Lions.
Bukayo Saka is the first player to score on his birthday for England since Steven Gerrard against Hungary in May 2006.
Bukayo Saka is the first Arsenal player to score and assist in a single match at Wembley for England since Ian Wright against Moldova in September 1997.