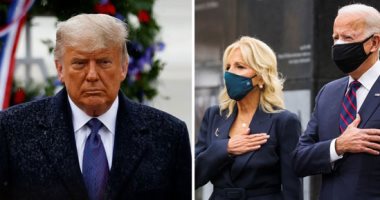 In 2020, the United States witnessed a number of stormy events, on top of which was the outbreak of the Corona epidemic, to become the first country in the world in terms of the number of injuries and deaths, in addition to a number of political and other events.
January:
American basketball legend Coby Bryant and his daughter Gianna were killed in their helicopter crash
February
: President Donald Trump was acquitted from a congressional impeachment trial and the famous Hollywood producer was convicted of raping an actress and assaulting his assistant
March:
The stock market crash due to the Corona epidemic, and the Dow Jones index recorded its worst decline ever
April:
The United States recorded record numbers of Corona injuries and deaths at the height of the first wave of the epidemic
May
: The killing of African American George Floyd by the police, sparking a storm of anti-racism protests that lasted for several weeks
June:
Officially announcing the nomination of Joe Biden in the US presidential elections for the Democratic Party
July: The United States officially withdraw from the World Health Organization
August:
Actor Chadwick Boseman, movie hero, dies Black Panther After suffering with cancer
September
: The death of US Supreme Court Justice Ruth Bader Ginsburg and the start of her nomination battle between Democrats and Republicans. Ginsburg was the second woman to be appointed to the Supreme Court.
October:
President Donald Trump and his wife Melania were infected with the Corona virus, less than a month before the election date
Nov
: The conduct of the American presidential elections: Joe Biden achieved a victory over the current President Donald Trump, and the latter refused to admit his defeat so far
Dec
: The Corona vaccine began to be distributed to Americans after the Food and Drug Administration's careless approval of the Pfizer vaccine