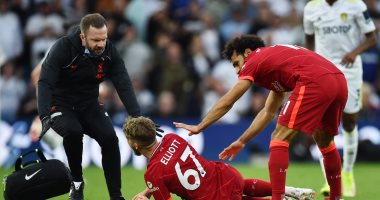 Liverpool announced that its player, Harvey Elliott, will undergo surgery in the coming days, after he was injured in the Leeds United match, which ended with the Reds winning 3-0 on Sunday evening in the fourth round of the English Premier League championship "Premier League".
According to the club's statement via the official website, Harvey Elliott was discharged from Leeds Hospital after receiving full care and special first aid upon his arrival after leaving the team's match today.
A club statement said: "Liverpool Football Club can confirm Harvey Elliott has been discharged from hospital after sustaining a serious ankle injury in the match against Leeds United on Sunday.".
"Elliott will be required to undergo surgery in the coming days and the club will provide a further update to his expectations in due course," the statement added..
"Harvey, his family and Liverpool Football Club would like to place on record their thanks to the paramedics and all staff at Leeds General Hospital for the care and treatment provided," the statement continued..
Elliot was injured in the middle of the field during the activities of the second half, which caused a state of panic, as the photographers' lenses spotted Mohamed Salah's request to the referee to stop the match quickly to save his teammate.
Elliott was carried out on a stretcher, after suffering a severe leg injury, as a result of the intervention of Pascal Strick, a player from Leeds United, in the 60th minute, who received a red card as a result of his rough intervention.
Jurgen Klopp commented on the injury of Herve Elliott, saying: "Elliott has a bad ankle injury, he dislocated his ankle and it was restored, now he is in the hospital, I saw the injury in front of my eyes and I was shocked, frankly, Harvey is an excellent player, and now he is injured and we will wait for him."
He added, "I do not wish any boy or person to experience such an injury in his career. Yes, we will play without Elliot, but we will wait for him because he is a great player."
He continued, "I saw the sight of his ankle dislocated in front of my eyes, everyone was stunned by what he saw."