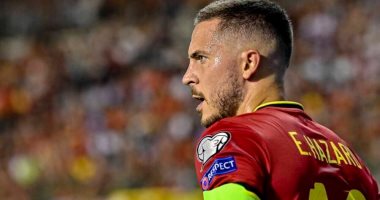 Eden Hazard, the star of the Belgium national team, confirmed that the victory over the Czech team was ideal, indicating that his country can still do better, in the match that was held at the "King Baudouin" stadium in the capital, Brussels, as part of the fifth round matches. From Group E of the European qualifiers for the 2022 World Cup.
Hazard said, in comments after the end of the match: "Now we have more experience, and we want to play and win, and we strive to give everything we have every time we play."
The Real Madrid star added, "We suffered from disappointment after the Euro. Everyone expects us to do more than that, but we did not succeed. We are trying to build on what is happening with us to improve in the future."
He continued: "Tonight Romelu scored again, Courtois played a great game and I scored after a long time, however on a team level we can still do better than that, today we missed some chances."
Hazard added, "We play in an offensive system where I don't have to defend a lot. On the counter-attack, I'm present and we scored 3 goals with teamwork. I'm happy for that, the important thing now is to continue playing, I'm just thinking about it."
"Tonight's match was perfect, we played with our fans for the first time in over a year, we played well and scored 3 goals against the strongest team in the group, it was a great night."
He concluded: "I had a lot of fun tonight, the past months have been tough, I hope I'll be fine from now on, if I keep playing I know I'll be good, that's what I have in mind and I hope to keep improving physically, it's been a long time since my last goals With the national team, I don't even remember my last goal with the national team, but I felt good this Sunday."
With this victory, the Belgian team raised its score to 13 points at the top of the tenth group, while the balance of the Czech team stopped at 7 points in second place.