As extreme climate-related events strengthen in intensity and frequency worldwide, wild animals are often the first to be impacted. 
An estimated 3 billion animals were killed in the Australian bushfires from 2019 through early 2020.
In Utah, the millions of birds that made their home at the Great Salt Lake have been affected by the severe and widespread drought plaguing the western U.S.
SWELTERING JUNE BREAKS HEAT RECORDS IN NORTH AMERICA
In California, officials have warned that protected populations of salmon might not make it through the sweltering summer season. Millions of salmon have been relocated by the California Department of Fish and Wildlife using special trucks. 
In Florida, hundreds of fish have washed onto Tampa Bay and St. Petersburg beaches, and the Florida Fish and Wildlife Conservation said fish kills were expected to be red tide-related.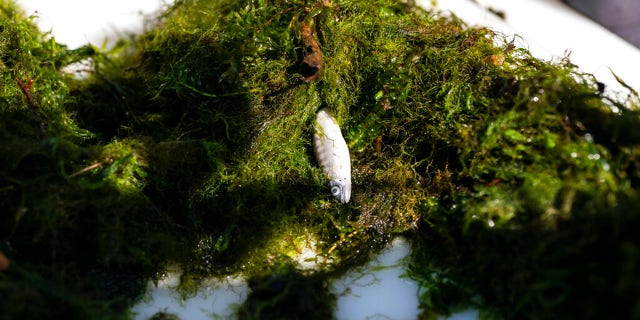 Hundreds in the U.S. were killed by excessive heat and the National Oceanic and Atmospheric Administration (NOAA) later reported that the month of June was the hottest on record in North America.
According to a U.S Drought Monitor update on July 8, almost 78 million people were in a drought area in the contiguous U.S.,, with 57.52% of the region marked as "Abnormally Dry" to "Exceptional Drought." 
That number is up from the nearly 44% of the U.S. mainland in drought at the beginning of June.
Harley warned that losing intertidal animals like mussels could have an adverse effect on the region's biodiversity, noting that many had reported observations of die-offs up and down the continental coast.
"For most of the strange and wonderful creatures that call the mussel bed home, we don't even know enough about them to know how many were lost and if and when they will recover," he lamented.
Fox News has reached out to Harley for further comment but did not immediately receive a response.
In its National Climate Assessment, NOAA wrote that the fact the Earth's climate is changing is "apparent across the United States in a wide range of observations."
CLICK HERE FOR THE FOX NEWS APP
"The global warming of the past 50 years is primarily due to human activities, predominantly the burning of fossil fuels," the agency said, noting "stronger evidence confirms" that an increase in extreme weather and climate events like heat waves are related to human activities. 
"Human-induced climate change is projected to continue, and it will accelerate significantly if global emissions of heat-trapping gases continue to increase," NOAA cautioned.
The Associated Press contributed to this report.