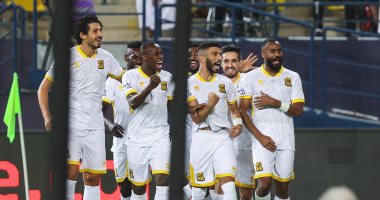 Egyptian international Ahmed Hegazy, defender of Ittihad Jeddah, leads his team to secure its lead when it hosts its wounded counterpart, Al-Taawoun, at King Abdullah City Stadium, "The Radioactive Jewel", today, Friday, in the Mohammed bin Salman Professional Cup League..
The stadium of King Abdullah City, "The Radiant Jewel", will host today's confrontation, and the match between Al-Ittihad and Al-Taawon will start at 7:25 pm Cairo time.
Al-Ittihad presented a remarkable show this season, despite losing to Al-Fayhaa in its first matches, but it managed to achieve 4 consecutive victories..
Al-Ittihad managed to leave Marsool Park last week, winning 3-1 against its host Al-Nassr in an exciting match.
Al-Ittihad enters the match as it leads the standings with 12 points, two points behind its runner-up Al-Hilal, which has a postponed match against Al-Fayhaa, while the task of cooperation will be difficult as it will face Al-Ittihad, which is excited by its recent victories..
Al-Taawoun suffered this season from a weak start, as the team did not play the taste of victories after 5 stages so far.
Al-Taawoun entered the danger stage early, as the team occupies the penultimate position with only two points from two draws against Al-Hazm and Al-Ahly and lost from Al-Hilal, Al-Nasr and Al-Raed..
The Al-Ittihad and Cooperation match in the sixth round of the Saudi Football League matches from the 2021 season, in the sixth rounds of the Saudi Professional League, will witness the first appearance of striker Youssef Niakati in the Jeddah Union shirt.
Youssef Niakati, who is on loan from the unit, will compensate for the absence of the injured Abdel Aziz Al-Bishi, whose medical examinations showed his need for rest and treatment after he was discharged injured in the victory match..
The Romanian Cosmin Contra, coach of the Jeddah Federation, focused on the fitness and tactical aspects of the training, which was attended by the club's president and his deputy..
Kuzmin did not maneuver during the training, and was keen to postpone the starting lineup that he intends to advance in front of cooperation..
Contra Saud Abdul Hamid, the right-back of the Al Ittihad team, warned against obtaining a fourth yellow card against Al Taawon today, because if Abdul Hamid gets the fourth yellow card against Al Taawon, he will be absent from Al Ittihad's support during the Al Ahly match in the Jeddah derby next week, as he had previously received 3 warnings in The previous 5 rounds.
Al-Ittihad is at the top of the Saudi League standings with 12 points, while Al-Taawun is in the fifteenth place with two points.