Jordan Henderson, captain of the professional Liverpool team, Mohamed Salah, expressed his happiness after his team defeated its Italian guest, AC Milan, 3-2, in the exciting match that brought the two teams together at "Anfield", in the first round of the Champions League. And he commented on his Twitter account, saying: "There is not much better feeling.. A special European night at Anfield! Great atmosphere, great win."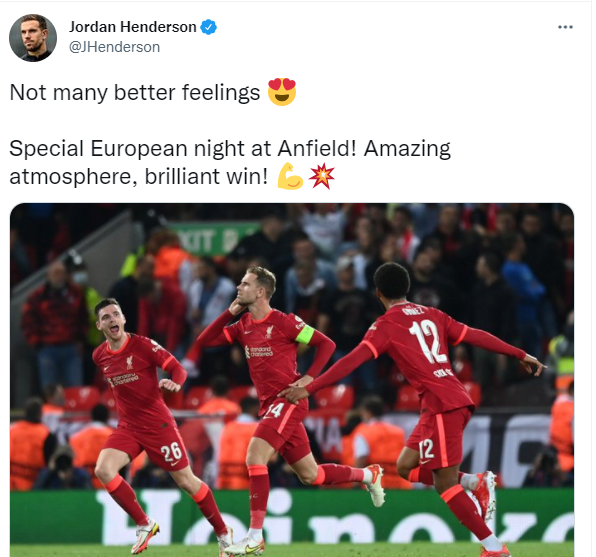 Henderson after scoring a goal
James Milner, a Liverpool player, celebrated the difficult victory in the team's first round of the group stage in the Champions League, and published his photos during the participation in the match against Milan on his account on "Twitter", and commented: "A difficult victory for the good Milan team. It's great. To return to the Champions League nights at Anfield."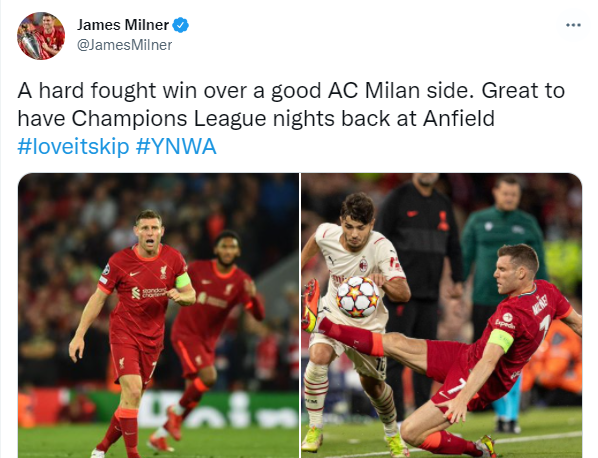 Milner comments on the win
Liverpool beat AC Milan, 3-2, in the exciting match that brought the two teams together at Anfield, in the first round of Group B for the Champions League group stage..
The first half ended with Milan progressing 2-1, as Trent Alexander-Arnold scored the goal of Liverpool in partnership with Milan defender Tomori, in the ninth minute after receiving a pass from Mohamed Salah to go through the defenses of the Rossoneri and hit a powerful shot in the goal.
Milan goalkeeper Mike Maynan saved a penalty kick from Egyptian star Mohamed Salah in the 14th minute, after the pharaoh scored 17 consecutive penalties with Liverpool in various competitions, and missed the opportunity to equalize the record held by the player Yan Mobley, which is the most record of consecutive penalty kicks with Liverpool With 18 successful kicks.
This kick against Milan is the first time that Salah has failed since he wasted against Huddersfield Town in 2017, after which he scored 17 consecutive kicks..
The Croatian Ante Rebic scored Milan's equalizer in the 42nd minute by one-on-one with goalkeeper Alisson, before Spaniard Brahim Diaz scored the second goal in the 44th minute.
In the second half, Mohamed Salah scored Liverpool's second goal in the 49th minute, after receiving a charming pass from Divock Origi to put it in the goal to the right of the Milan goalkeeper..
Mohamed Salah is the sixth Liverpool player to miss a penalty kick and score in the same match in the Champions League after Michael Owen, Xabi Alonso, Steven Gerrard, Roberto Firmino and Sadio Mane.
Jordan Henderson managed to score Liverpool's third goal in the 69th minute, with a ground shot from outside the penalty area to settle to the right of the Milan goalkeeper, which is the first goal of the Reds captain in the Champions League..