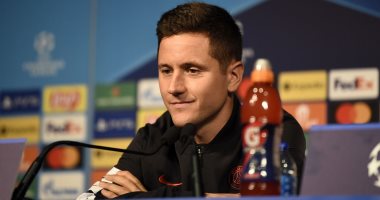 Ander Herrera, the French player of Paris Saint-Germain, confirmed his team's respect for his English rival, Manchester City, before the expected confrontation that will bring them together at nine o'clock tomorrow evening, Tuesday, at the "Park of the Princes", at the top of the second round of the group stage matches of the European Champions League competition in the current season 2021. 2022.
Herrera said in the match press conference, "We have a lot of respect for Manchester City, it is a very important challenge, and we respect all the teams in the Champions League! Every match is a new challenge for us, all teams are playing the match of the season against us. We must play with complete concentration. ".
Herrera added, "We have great players who can make the difference, but we need a strong mass at the back. We need everyone," explaining, "We must be more effective and take advantage of the opportunities available to resolve the matches."
The Paris Saint-Germain player continued, "There is no team in Europe where the pressure is greater than here, the pressure and the commitment to win champions. It is not justified because it is a dream that there are 10 or 12 teams in Europe who can win this competition."
Herrera commented on the relationship between Neymar and Mbappe, after the latter's anger at the Brazilian star during the recent Montpellier match, saying, "Since my arrival, I have seen the relationship between Neymar and Kylian Mbappe never changed, they laugh together and in the match everyone wants to score and provide assistance, these things happen."
"Here, things are magnified, although it is not true, I read some things and I can tell you that they are not completely true," Herrera added.
Man City leads the first group with 3 points, after its broad victory in the first round over German Leipzig 6-3, while the Paris team fell into the trap of a positive tie against its Belgian host Club Brugge, 1-1, and in the same group, Leipzig faces its counterpart Club Brugge..