By Steve Holden
Newsbeat reporter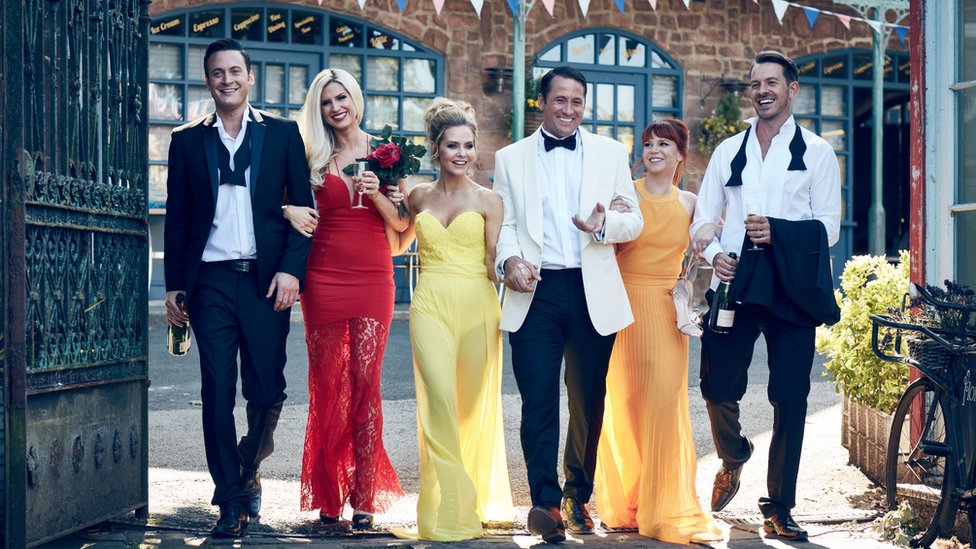 This week marks 25 years since Hollyoaks first appeared on Channel 4 and to celebrate, the show will see the return of some old favourites.
There will also be blackmail, a proposal, the discovery of a dead body and potentially a divorce for the village's favourite couple.
For a tea-time soap, Hollyoaks has never feared tackling hard-hitting or controversial storylines.
The show has drawn praise for its portrayal of real-life issues, from gender, sexuality and mental health, to child abuse and far right extremism.
Ahead of the anniversary on Friday, here's a look back at 10 of the biggest Hollyoaks plots.
1. Male rape
Male rape has been tackled twice in Hollyoaks.
In 2000, Luke Morgan, played by Gary Lucy, was attacked by a fellow football player.
His rape was a soap first and generated national headlines. You could argue it's still Hollyoaks' most famous storyline.
At the time, producers worked with rape support groups.
It was something they did again in 2014 when teacher John Paul McQueen, played by James Sutton, was sexually assaulted by one of his students.
2. County lines drug dealing
County lines is the term for when drug dealers in cities recruit young and often vulnerable people to transport and sell illegal drugs in small towns and villages.
They are often enticed by the promise of money but it can become violent and dangerous with no way out.
The storyline was introduced at the end of last year and saw Sid and Juliet drawn into dealing by Sid's cousin Jordan.
The pair have now sold drugs in the village and recruited younger kids to join them.
Hollyoaks worked with the Children's Society to develop the plotline and highlight how the issue can affect a whole community.
3. Hannah Ashworth's anorexia
Emma Rigby won a British Soap Award for best actress for her portrayal of Hannah Ashworth, who had anorexia and bulimia.
Her character experienced the illness for years on screen, attracting praise from mental health charities for raising awareness.
As part of her story, one of her friends, Melissa, died of a heart attack due to a lack of food.
It was the first time a British soap had ever had a character die because of an eating disorder.
4. Ste and Brendan's abusive relationship
Ste Hay, played by Keiron Richardson, and Brendan Brady, played by Emmett Scanlan, were part of a love triangle in which Brendan abused Ste, fuelled by his struggle to accept his sexuality.
Before the plot developed, Richardson came out publicly on This Morning.
He said: "The storyline's relevant to some situations in my life and if maybe I can help people that are going through the same thing then it's a bonus."
The plot was also used to highlight the issue of male victims of domestic abuse.
5. Lisa Hunter's self-harm
In the early 2000s Gemma Atkinson played Lisa Hunter, who turned to self-harm after being bullied by Steph Dean.
It was the first soap to feature such a plot, with Lisa hiding what she was doing from her family and friends.
Self-harm has since been covered several times in Hollyoaks.
6. Natasha Anderson's ecstasy death
In 1995, the national press covered the death of a teenage girl called Leah Betts, who died after taking an ecstasy tablet at her 18th birthday.
Less than a year later, Hollyoaks addressed drugs when the character of Natasha Anderson, played by Shebah Ronay, had her drink spiked at an18th birthday party.
She collapsed and died on the dancefloor.
Hollyoaks plotlines have often echoed real news stories.
In 2009, a controversial storyline had two characters who were living under false names after being convicted of killing a child when they were younger.
7. Far right extremism
In 2019, Hollyoaks explored the threat of far right extremism through Ste.
As Ste was a gay character, the move shifted the focus onto a new trend of recruiting minorities and not the stereotypical white, straight male.
It began with the death of his half sister during surgery. Ste believed a Muslim doctor was responsible and this made him an easy target.
He was even more vulnerable as he lost his job and house around the same time.
Again, the soap was responding to what was happening in the UK at the time and worked with Prevent and ExitUK who help people escape extremism.
8. Anita Roy's skin bleaching
In 2009, Anita Roy, played by Saira Choudhry, was racially abused by Gaz Bennett.
As a result of the bullying, she started bleaching her skin to look white – making Hollyoaks the first soap to ever tackle such a storyline.
Speaking to Newsbeat at the time, Choudhry said: "This is really challenging and the deepest thing I've ever read."
9. Jason Costello
Hollyoaks was the first British soap to introduce a character who experiences gender identity disorder.
Introduced to the audience as Jasmine Costello, the character identified as Jason.
The role was played by Victoria Atkin, who met transgender teenagers to research the character.
10. Steph Cunningham's cancer
In 2010, Steph Cunningham was diagnosed with cervical cancer.
Steph, played by Carley Stenson, had ignored her symptoms and ended up needing a hysterectomy.
As with many other plotlines, producers – and Stenson – hoped to raise awareness of the issue among its audience.
If you've been affected by any issues in this story you can visit the BBC Action Line for help.