Severe infection with COVID-19 can lead to low oxygen levels, making breathing difficult for patients, and silent hypoxemia (low oxygen in the blood) has been linked to many coronavirus-related deaths.
According to a website report, healthsite"Ventilators can be lifesaving for COVID-19 patients with acute respiratory symptoms, and ensuring the timely supply of oxygen is important, however, so far, it has been the identification of newly admitted patients who are most likely to need respirators. A respirator is a challenge for doctors.
Now, researchers at Case Western Reserve University in the United States have developed an online tool that can accurately predict the need for a ventilator for Corona patients.

A tool for predicting severe corona patients
According to the researchers, they analyzed CT scans of nearly 900 coronavirus patients diagnosed in 2020 to develop the tool, which medical staff can quickly determine who will need help breathing with a ventilator with 84% accuracy.
Knowing which coronavirus patients will need a respirator can help doctors plan how to care for the patient and hospitals to determine how many respirators they need, said Anant Madabashi, professor of biomedical engineering at the Donnell Institute at Case Western Reserve.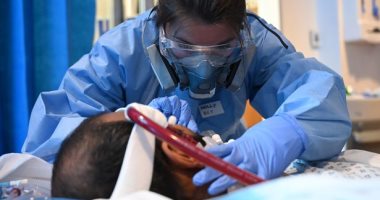 How does the tool work?

Doctors explained that medical staff can upload a digital image of a patient's chest scan, as learning computers with artificial intelligence (AI) by analyzing them and predicting whether a patient is likely to need a ventilator.
The research team used CT scans taken in 2020 of nearly 900 patients from the United States and Wuhan, China to test the accuracy of the tool, which helped them discover the distinguishing features of patients who later ended up in the intensive care unit (ICU) and needed help breathing.
The patterns in the CT scans detected by computers cannot be seen with the naked eye, the paper's lead author said.
This tool allowed medical personnel to administer medications or supportive interventions sooner to slow disease progression, and would allow early identification of those at increased risk of severe acute respiratory distress syndrome, or death, and these were patients who were ideal candidates for ventilators. ".