A new study reveals that people who suffer from migraines get less REM sleep. REMEThis stage of sleep is important for thinking and memory, according to what was published on the website.CNN"American.
the rapid eye movement phase during sleep, or REME , is the point during our sleep cycles, which is characterized by more dreams, physical movement, and faster heart rate and breathing than in other stages of sleep.
According to the study, which was published in the journal Neurology, Medical Journal of the American Academy of Neurology, researchers analyzed 32 other studies and found that adults and children with migraines get less quality sleep than healthy people without migraines.
"We wanted to analyze recent research to get a clearer picture of how migraines affect people's sleep patterns and headache severity," said one of the study's authors, Dr Jan Hoffmann, a clinical lecturer in neuroscience at King's College London.
"In this way, clinicians can support people with migraines and provide more effective sleep treatments," added Hoffman, a member of the American Academy of Neurology.
The authors write that previously observed associations between sleep disturbances and migraines have been difficult for researchers to resolve, because changes in sleep can be a trigger, treatment, or symptom of migraines.
Although migraines affect about 1 billion people, there hasn't been a lot of conclusive research on what migraine sufferers think about their sleep quality — and whether objective lab tests match that.
The new meta-analysis included more than 10,000 adults and children who had participated in previous studies. Adults with migraines scored worse than healthy participants on the Sleep Quality Index, a questionnaire that asks about sleep quality, time taken to fall asleep, duration and efficiency of sleep, sleep disturbances, and use of medications Sleep, and daytime dysfunction This finding was more common among adults with chronic rather than episodic migraines.
Many of the participants underwent nocturnal polysomnography, a sleep study that records certain body functions while participants sleep and is used to diagnose sleep disorders.
These tests showed that adults and children with migraines had less REM sleep and children with migraines took less time to fall asleep, less overall sleep time, and longer time awake.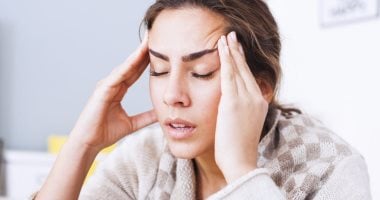 Headaches and migraines are linked to insomnia, sleepwalking, restless leg syndrome and other sleep disturbances, the researchers said.
The researchers found a decrease in REM sleep the night before a migraine attack.
The study showed that one of the migraine symptoms that worsened after deprivation of REM sleep is pain when a person feels pain after touching their skin in a way that does not usually cause pain, and this indicates a possible dysfunction in the REM sleep processes that can cause migraines. .
The authors said that children with migraines who fell asleep faster than children without migraines may have done so because they may be sleep-deprived.