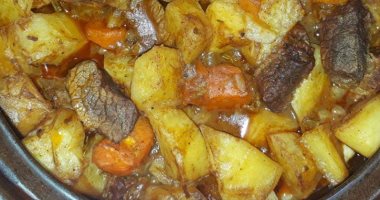 Meat casserole is one of the most favorite and beloved dishes of many people. It gives meat a distinct and different flavor. However, there are some touches that chefs add to known dishes to give them a different touch and present it in a new way. If you want to renew your trip, and the way you prepare your meals The special that was presented to your family, "The Seventh Day", with Chef Fatima Abdel Moneim, shows how to make the meat tagine with plums and dough in the easiest and most delicious way.
the ingredients
Half a kilo of meat
1 kilo of potatoes, cut into thick slices
liter of tomato juice
2 onions
2 cloves minced garlic
Salt, black pepper and mixed spices
Quarter of a kilo of plums
Cup water
2 tablespoons of sugar
How to prepare
We cut the meat and boil it in a liter of water, with a large onion with salt and black pepper, and leave it until it is completely cooked, then we boil the plums in a cup of water and a stick of cinnamon with sugar for five minutes on the fire, then we bring the casserole that the meat will be settled in it.
We put a little oil in the casserole, add the oil and an onion cut into small pieces, stir it until it takes a golden color, then put the tomato juice, put the potatoes, salt and spices on it, and leave it even, then put on the potatoes the pieces of meat and decorate it with plums, and we cover the casserole with dough, We put it in the oven for ten minutes and serve it hot.
How to prepare the dough:
To make the dough, we put 2 cups of flour, half a cup of warm water, and a small spoonful of yeast, knead them and leave it to ferment for ten minutes, then roll it out and cover the casserole, brush the dough with milk and sprinkle sesame on it.