Being grateful towards others greatly enhances mental health, increases our sense of happiness, and some studies even suggest that it also improves physical health, which is why it is so important to teach children at a young age to show gratitude to others, and this can be achieved by applying the advice of Rebecca Lockwood, parenting expert And motherhood and positive psychology, the advice of which we review in this report, according to the British newspaper "Metro" website.
Talk to your children
Children should be taught to be grateful for what they already have, by talking to them every night about the simple things they have and that they should be grateful for, such as clean water, tea, sheets on the bed, heartbeat, and other simple things that they have. Many people take it for granted that its existence is normal.
Teach your kids the value of money
Parents should talk with the children about the value of money as well as the necessity of earning it and the correct ways to spend it while setting small tasks for them to help earn money, as this helps them learn the value of money and gratitude for everything you bought with money, such as food, milk and water bills, and talk with the children about the necessity of feeling Be grateful for the things you buy for them, and then the things they can buy themselves one day."
Practice gratitude in your daily life
Children from 0 to 7 years imitate the behavior of those around them, so parents must always show gratitude in front of children, so that they learn from their parents and imitate them when dealing with others, whether with their colleagues at school or with their friends in the vicinity of their home and continue to deal as well with others in the future.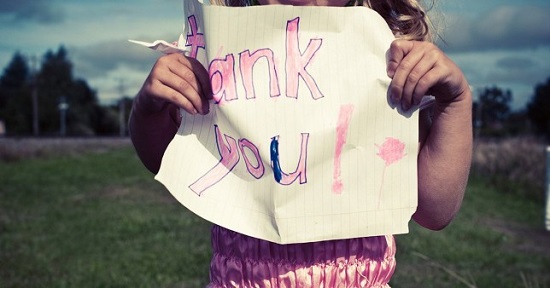 Thank you