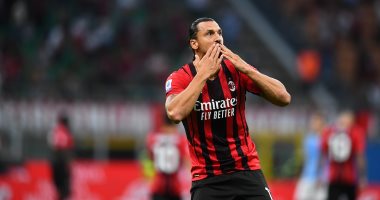 It was confirmed that the Swedish star Zlatan Ibrahimovic, AC Milan striker, will be absent from the Rossoneri against Atletico Madrid in the match scheduled for tomorrow, Tuesday, in the second round of the group stage competitions of the 2021-2022 Champions League.
Zlatan Ibrahimovic suffers from an Achilles tendon injury, which he suffered during the Lazio match in the third round of the Italian League, which is the only meeting in which the Swedish star participated with the Lombardy this season.
According to the Italian newspaper, La Gazzetta dello Sport, Zlatan Ibrahimovic will miss Milan against Atletico Madrid in the Champions League, due to his suffering from an Achilles tendon injury.
The newspaper added that Zlatan Ibrahimovic's absence from Milan will extend until the international stop, which confirms his absence from the Atalanta match scheduled for next Sunday, in the sixth round of the Calcio.
The newspaper stressed that Ibrahimovic seeks to recover 100% before returning to participating in matches with Milan again.
Zlatan Ibrahimovic is engaged in individual training, and has not yet joined AC Milan's group training.
Milan conceded or defeated Liverpool 2-3 in the first round of the group stage of the Champions League.
It is worth noting that Milan is in second place in the Italian league table with 16 points, two points behind Napoli, the leader.