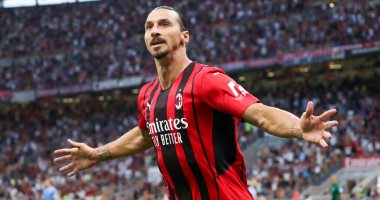 AC Milan will be a heavy guest against Liverpool on Wednesday evening at Anfield Road, in the first round of the group stage of the Champions League..
And the newspaper "La Gazzetta dello Sport" confirmed that Swede Zlatan Ibrahimovic is expected to start this match from the first minute..
She added that Ibrahimovic is on a date with a new record against Liverpool in the Champions League, as Ibrahimovic has 49 goals in the Champions League, and he aspires to score his 50th goal against Liverpool, and that at the age of about forty he wants to be the oldest striker to score in Europe's most prestigious tournament.
Ibrahimovic managed to lead Milan this week to win over Lazio 2-0, at the San Siro, for the third round of the Italian League..
Milan will play after the Liverpool match against Juventus at Allianz Stadium in a fiery match in the Calcio competition.
The Swedish star Zlatan Ibrahimovic, Milan striker, scored a record in the Italian league, after he scored a goal in the Rossoneri's victory over its guest Lazio, with two goals without return, in the match that was held between them at the "San Siro" stadium, the stronghold of the Rossoneri, in the third round of the Serie A season. Current 2021-2020.
Ibrahimovic, 39 years and 344 days old, became the oldest foreign player to score a goal in the history of the Italian League, overtaking the Portuguese Bruno Alves, according to the statistics published by the "Opta" network specialized in statistics and records.
Swedish star Zlatan Ibrahimovic scored the second goal for Milan in the 66th minute of the match, and participated as a substitute in the 60th minute of the match instead of Rafael Liao, where Zlatan scored his appearance again with the Rossoneri after an absence of more than 4 months due to injury.
Milan raised its score to 9 points, to top the Italian league table, ahead of only Napoli, with the same balance of points, with a difference of goals, while Lazio came in sixth place with 6 points.