An Indian man built a replica of the famous Taj Mahal, and presented it to his wife. Shah Jahan made it as a symbol of love for his wife, the Taj Mahal".
Anand Chux, the Indian husband who came up with the idea, always wondered about the idea of ​​building the Taj Mahal and the reason for building it in his city, and this thought prompted him to do the same, so he built a house as a gift for his wife Mangosha, consisting of 4 bedrooms that is a replica of the real Taj Mahal, according to the website. RT.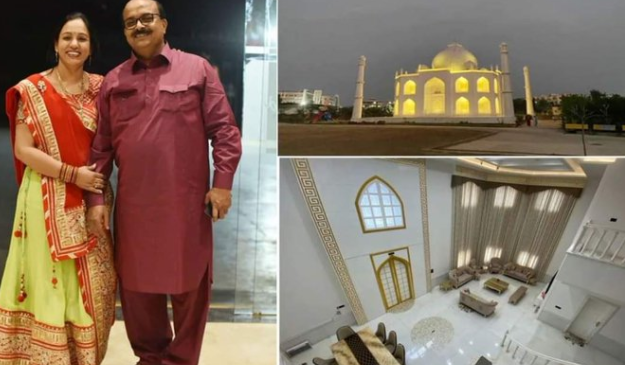 Indian man, wife and house
For his part, the engineer who built it explained that the house is similar to the Taj Mahal It took more than three years and faced many challenges in building.
The dome of the house is 29 feet high and includes towers resembling the Taj Mahal. In addition, the floor of this imitation house was made ofMakranain Rajasthan, while the furniture was processed by artisans in Mumbai.
And last June, the Taj Mahal, one of the most prominent tourist attractions in India, returned to receive its visitors again, after the Indian authorities announced the opening of the doors of the Taj Mahal to expatriates.
And the "Euro News" network published clips of the Taj Mahal's reception for its visitors, who flocked in small numbers, with the authorities setting a maximum number of 650 people per day.
The video clips showed a weak presence of arrivals and the keenness of visitors to the Taj Mahal, to take memorial photos in the huge marble mausoleum and the rest of the historical places, and to tour the most famous tourist attraction in India, with the gradual return of the tourist attraction to its visitors from inside and outside India.