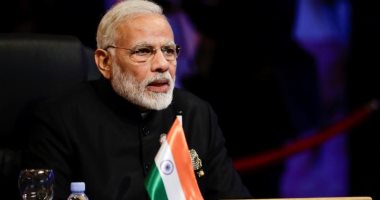 Indian Prime Minister Narendra Modi said today, Friday, that farmers' protests against three laws approved by his government are politically motivated, noting that this comes amid the success of his agricultural program, which he inaugurated last year.
Thousands of farmers from several Indian states have been camping out on the outskirts of New Delhi for more than a month, blocking highways, demanding the Modi government to repeal laws passed in September, which they say threaten their livelihoods.
But Modi's speech on Friday did not focus on the controversial laws.
Instead, Modi spoke via videoconference to seven farmers from a different state and asked them how much they had benefited from a money transfer program his government launched in February 2019 under which farmers receive a minimum income subsidy.
Farmers Modi spoke with today praised the program, but none was among the thousands protesting the laws.
Modi repeated that "some people" spread lies and rumors about farmers' problems, and said that political opponents were behind the stoking of the protests.
"All of those who are protesting in support of farmers, what did they do when they were in power?" Modi said. Pointing to opposition politicians. "Those who are politically motivated … are exploiting (farmers) to achieve special goals," he said.