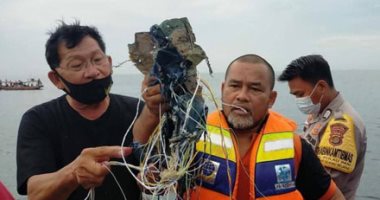 The Indonesian Minister of Transport confirmed, today, Saturday, that the plane belonging to the Sriwijaya aviation company had crashed near Laki Island. The spokesman for the Indonesian Search and Rescue Office, Yusuf Latif, confirmed today, Saturday, the loss of contact with a plane belonging to the "Sriwijaya" Air Company in the country, after taking off from the capital Jakarta. With 62 passengers on board, the director general of air transport at the ministry, Novi Rianto, told the Indonesian "Antara" news agency: "The Jakarta airport controllers lost contact with the Sriwigaya air plane." According to the Chinese "Xinhua" News Agency.
Rianto added: "The last call was at 2:40 pm local time in Indonesia, (07:40 GMT).., Earlier, the Flight Radar 24 service said: "The Sriwigaya plane lost contact after rising more than 10,000 feet in less than 60 seconds and four minutes after departure from Jakarta Airport..
The service wrote on Twitter: "I lost a signal ADS-B From Flight No. SJ182 At 07:40:27 UTC. The flight was on its way from Jakarta to Pontianak, Indonesia".
For its part, the Russian embassy in Indonesia said, "There were no Russian citizens on board the" Sriwigaya "air plane, according to initial information", According to Air Life, there were 62 people on board the plane, including 46 adults, seven children and three infants, in addition to two pilots and four flight attendants..