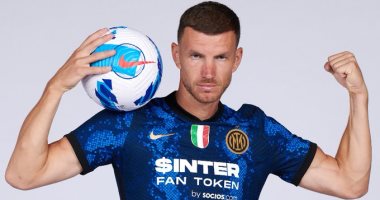 Inter Milan striker Edin Dzeko confirmed that he does not feel pressure to compensate for the departure of Belgian striker Romelu Lukaku, in the Nerazzurri attack line, a few hours before the expected meeting against Real Madrid, which will be held at the "Giuseppe Meazza" stadium, in the first round of Group D in the Champions League. Europe.
Dzeko scored 119 goals and contributed 55 assists during his six years with Roma in the Italian capital.
Speaking to Amazon Prime, Dzeko stressed, "The strong players can always play together, and I had a great time with Aguero, as he did with me. Great for Inter.
The Inter Milan striker said: "Roma is a very difficult place, Luciano Spalletti is one of the best coaches I have dealt with. This helped me become a top scorer."
He added: "We said we had to try, but then we did not imagine that it would be possible to score three goals against Barcelona after the 4-1 loss. We realize after the chance we had because Liverpool were stronger, but we did well, we got rid of the first, if things had gone differently, anything could have happened."
Dzeko revealed that he was expecting to stay in Rome and that he was ready to "give everything" to the Gelorossi.
Dzeko said: "I did not expect to join Inter Milan because I spent another year in Rome. You have given me so much, and I can only say thank you."
The Inter Milan striker said: "But then my contract expired, Inter wanted me so much and Roma told me that they would not extend my agreement. That I can play for Inter Milan, last year, I saw him after the match against Inter and they were already the Italian champions. I congratulated him and he told me that I could have won the Scudetto."
He said: "In recent years Simone Inzaghi has done great things at Lazio. I hope that from now on, we both will continue to do after the tournament that we deservedly won last year."
He continued: "Romelu Lukaku has given a lot to Inter in the past two years, won the Scudetto and done many things, but I don't feel pressure, I only think about Inter and help the team. I can't wait to play in the Champions League again, we are ready and we can't wait."