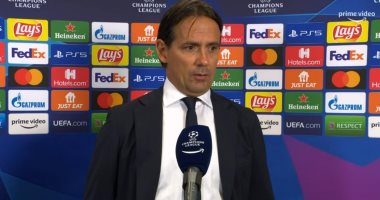 Inter Milan coach Simone Inzaghi confirmed that the Nerazzurri did not deserve to lose against Real Madrid, in the match that ended with the victory of the royal with a goal without a response, which was held at the "Giuseppe Meazza" stadium, in the first round of the Champions League competition. That Inter will qualify for the round of 16 if he continues with this performance.
After the match, Inzaghi said:We are not happy because after a performance like this we are talking here about a loss, we played a great game but we faced a giant goalkeeper who played a great game, I am very sorry for the fans and the players.".
Inzaghi continued, "Every time we faced Courtois, I was a striker and there is not much to say when we see such saves."".
The coach continued, "When you are facing great teams, you cannot relax for a second and only a minute before the end we had to pay more attention.".
He continued, "If we continue to play in this way, I am confident that we will qualify for the round of 16. We attacked Real Madrid, we performed well on the field, but Courtois saved them, as the Real Madrid coach said. Inter deserved a very different result tonight.".
The goalless draw dominated the events of the first half, and Inter Milan was the best in terms of possession of the ball, and posed a great danger to Courtois, Real Madrid's goalkeeper, who saved more than one dangerous ball.
On the other hand, Real appeared far from its level, and lacked offensive solutions, in light of the distinguished level presented by the Italian team during the first 45 minutes of the match.
In the second half, the young Brazilian Rodrigo scored the winning goal for the royal team in the 89th minute of the match, after following the cross of Frenchman Eduardo Camavinga.