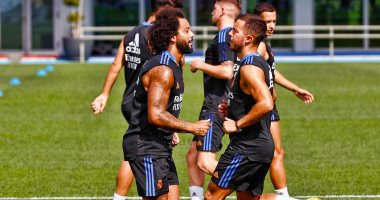 Welshman Gareth Bale, Real Madrid winger, suffered a torn tendon in his right leg, which will result in him being absent from the team for several weeks, and his Brazilian teammate, Marcelo, also suffered an injury to his right leg during the team's training session today, Monday, which will prevent him from accompanying the team's traveling mission. To Milan for the first match of the Champions League group stage against Inter Milan next Wednesday.
It is the first muscle injury that Bale has suffered this season after participating in three matches with Real Madrid in the first round of the Spanish first division football "La Liga", in addition to his participation in 3 other matches with his country.
Bale underwent medical examinations after the injury that prevented him from participating in the Celta Vigo match, which was hosted by the (Santiago Bernabeu) stadium on Sunday evening, and ended with the victory of Real Madrid by five goals for two, and the tests revealed that the Welshman had an injury at the level of the tendons of his right leg.
Real Madrid will not issue a statement regarding Bale's injury out of respect for his right to keep his private matters to himself, nor will it reveal the expected time of the player's absence from Real Madrid.
However, the Welsh winger is expected to be absent for a long time, and therefore will not participate in the first two rounds of the Champions League group stage, along with several other rounds of La Liga.
And as it is said, "misfortunes do not come alone", Real Madrid coach Carlo Ancelotti received bad news that Marcelo, who had recently recovered from a muscle injury before the Vigo match, was injured in the last part of the team's training session today in the sports city (Valdebebas) The player will undergo an MRI examination tomorrow, Tuesday, to determine his condition and the length of his absence from the team.
Ancelotti had intended to put Marcelo in the starting lineup for the Inter Milan match, but Miguel Gutierrez will continue to participate in the left-back position in the first Champions League meeting, especially since Ferland Mendy still needs more training sessions for his absence since last April.
Ancelotti ruled out Mendy's participation in the Inter Milan match, and the technical and medical staff will assess the player's condition day after day to find out the possibility of his participation in the next La Liga match that brings Real Madrid to Valencia next Sunday at the Mestalla stadium.