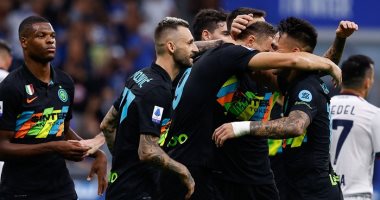 Inter Milan collides with its host Fiorentina at 9:15 pm today, Tuesday, in the fifth round of the Italian League competition at the "Florence" stadium.
Inter Milan is at the top of the Italian league table with 10 points, while Milan is runners-up with a goal difference, and Rome is third with 9 points, then Napoli is fourth with a goal difference, in front of Fiorentina, which is fifth with 9 points.
Inter, the Italian league title holder last season 2021-2022, enters the match after a big victory over Bologna 6-1 at the "Giuseppe Meazza" stadium in the fourth round of the Calcio.
Inter Milan coach Simone Inzaghi seeks to win to stay at the top of the Italian league table, especially in light of the fierce conflict with Milan, Rome and Napoli, in order.
Inzaghi dreams of leading Inter Milan to maintain the Italian league title this season, despite the lack of prominent duo Romelu Lukaku and Ashraf Hakimi after their departure to Chelsea and Paris Saint-Germain last summer.
Despite this, the Inter Milan players presented a distinguished performance during the first 4 rounds of the Italian League this season, reflecting the strength of the Nerazzurri and its ability to compete for the Scudetto.
The Inter Milan attack provided a strong start that outweighed the team's situation in the presence of the Belgian tank Romelu Lukaku last season, explaining that Inter Milan scored 15 goals in the first 4 matches of the Italian League, which is a record for the club since the beginning of the three-point era..
Inter Milan had scored 18 goals after 4 rounds in the Italian League, in the 1960-1961 season, which is the team's highest goal-scoring rate in this statistic..
Also, 9 players from Inter Milan managed to score the 15 goals, which is a distinguished number, especially in the diversity of goals and the presence of more than one registered in the team.