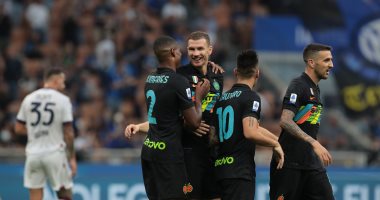 Inter Milan swept its guest, Bologna, 6-1, in the meeting that brought the two teams together this evening, Saturday, at the "Giuseppe Meazza" stadium, as part of the fourth round of the Italian League competitions for the current season 2021-2022.
Inter Milan ended the first half of the match with a 3-0 lead, Argentine star Lautaro Martinez opened the scoring early, in the sixth minute, after following the Dutch cross Dumfries.
Slovakian defender Skriniar added the second Nerazzurri goal in the 30th minute from a header after following Dimarco's cross from a corner kick.
Nicolo Barilla concluded the Inter Milan hat-trick in the 34th minute, after following a rebound from the Bologna defense to easily put it in the net.
In the second half, the Nerazzurri continued their sweeping attack, and managed to score another hat-trick through Uruguayan Matias Vicino and Bosnian striker Dzeko, with two goals, in the 54, 63 and 68 minutes.
Artur Thiat scored Bologna's only goal in the 86th minute of the match.
Inter Milan rose to the top of the Italian league standings with 10 points, while Bologna's balance stopped at 7 points in seventh place.
Inter had fallen into the trap of a fatal loss against its Spanish guest, Real Madrid, at the beginning of the two teams' journey in the group stage of the Champions League, despite the Italian team's preference for most of the match.