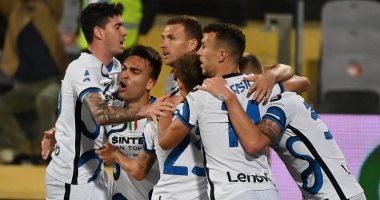 Inter Milan reached its 1500th victory in the Italian League through its participation, after overcoming its host Fiorentina 3-1, in the exciting meeting that brought the two teams together on Tuesday evening, at the "Artemio Franchi" stadium, in the fifth round of the Italian league "Calcio". For the current season 2021-2022.
The "Opta" network, which specializes in monitoring statistics, stated that Inter Milan needed 91 years, 11 months and 15 days in order to reach the 1500th victory in Calcio, since its first victory in the competition over Livorno in October 1929.
Fiorentina vs Inter
Fiorentina ended the first half of the match with a clean goal, scored by Ricardo Sutil in the 23rd minute, after following Nicolas Rodriguez's cross.
In the second half, Inter Milan managed to turn the table on the Viola team, by scoring two goals within 3 minutes, through Matteo Darmian and Edin Dzeko in the 52nd and 55th minutes.
Fiorentina's Nicolas Rodriguez was sent off after receiving a second yellow card, as a result of his unsportsmanlike objection to the match referee, so his team completed the match with ten players. The Croatian, Ivan Perisic, finished the Nerazzurri hat-trick in the 87th minute, after following up on Roberto Gagliardini's shot.
Inter Milan topped the Italian league standings table temporarily with 13 points, one point ahead of Napoli, who will visit Sampdoria on Thursday evening in the same round, while Viola's balance stopped at 9 points in sixth place.
Inter Milan, the defending champion, had won a wide victory over its guest, Bologna, 6-1, last Saturday in the fourth round of the Calcio.