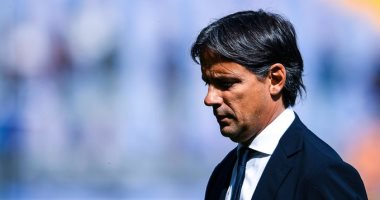 Inter Milan coach Simone Inzaghi confirmed that he sees the "ideas" of his counterpart Roberto de Zerbe in Shakhtar Donetsk, and knows very well how to play, before the two teams meet tomorrow, Tuesday, in the second round of the group stage of the Champions League.
Inzaghi said, in a press conference today, Monday: "Shakhtar have made a great journey, it has been more than 20 years, and they have had a great journey near the Europa League final, in recent years, they have performed excellently in the Champions League as well."
Inter lost 1-0 to Real Madrid at San Siro in the first round, but Inzaghi does not think the match against the Ukrainians will be decisive for the final group standings.
He added: "Shakhtar is a great team, well trained and great individuals. We must play a good match, knowing that we gave a good performance against Atalanta. I really liked the team and their reactions."
Inzaghi continued: "After watching Shakhtar in the last few matches, we realized that he is trying to put his ideas into football and he has performed well.
He added: "I ask a team that is ready to respond, ready to play football well, these two things were seen in the first six games, but I would like to see more balance, we attack with many players and develop a lot, but we may have to look for less difficult options." .
And he added: "Failure in simple passes can lead to counterattacks and very dangerous turns. We had some difficulties and some games where we were late, but I am happy with the reactions from my team."
Inzaghi was asked if he plans to make any changes to find more balance before the confrontation with the Ukrainians, and he said: "We are an attacking team, we develop the game and do it widely, on certain days, if we make more mistakes than usual and against good opponents, we may suffer." .
"But we will always try to create our game, create opportunities, just as we do."