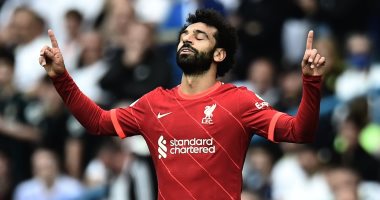 Today, Monday, Simone Inzaghi, coach of Inter Milan, sent a message to the Egyptian Mohamed Salah, the English star of Liverpool, regarding the renewal of his contract with the "Reds", while he praised a lot about the capabilities of the Algerian star Riyad Mahrez, the Manchester City player, stressing that he is one of the The best players who can make the difference at any time.
Several press reports had indicated that negotiations to renew the European champion in 2019 with Mohamed Salah had stalled, due to the Egyptian player's desire to obtain a weekly salary of 500,000 pounds, which is more than double what the English club offers..
In an interview with Al-Ain portal, Inzaghi asked the Egyptian star to think of his heart first, and to make the best decision for him, especially since his contract expires at the end of next season..
In this regard, he said, "For me, Salah is one of the best players in the world. I watched him closely when I was in my early days as a coach for the Lazio team, and he was a player in Rome."".
He added, "Mohamed Salah is a great player, and my advice to him is to think with his heart before taking the next step, and to choose the best for himself."".
The Italian coach also sang about the capabilities of Algerian Riyad Mahrez, the English star of Manchester City, as he was considered one of the best players who could make the difference at any time..
He explained: "Mahrez and Ziyech are among the players that I like the most about their way of playing, especially Mahrez, who is performing a great deal with Manchester City.".
And the 45-year-old continued, "We saw his achievements with the team, although he went through some physical problems, but when he came back, the return was strong, and he is one of the best players who makes the difference at any time.".
Inzaghi also touched on the departure of Portuguese star Cristiano Ronaldo from his team's traditional rival, Juventus, to Manchester United during the last summer transfers, after 12 years spent outside the stadium (Old Trafford)..
On this matter, Simone said: "Juventus is a great team and will not be affected by the departure of any of its stars, even if Ronaldo, and of course, "Juve" will remain the biggest contenders for the title.".
Regarding the Portuguese player, he explained: "For Cristiano Ronaldo, he can succeed wherever he goes, given that he has a different professional mentality.".
It is noteworthy that Simone Inzaghi coached Inter at the beginning of the current season, succeeding Italian coach Antonio Conte, who left at the end of last season, after leading the "Nerazzurri" to the league title after an absence of 11 years.