Two newlyweds decided to celebrate their marriage in a crazy way to commemorate their wedding, as the Irish couple celebrated their marriage by jumping into the sea in wedding clothes, in a cheerful and crazy way as an unforgettable memory, amid the encouragement of the invitees and the cheering of the beach goers in the Irish capital Dublin, who gathered to watch the celebration of the newlyweds.
And the British newspaper, "Daily Mail", published a video of the bride in the white dress and the groom in the brown wedding suit, then they clasped hands in each other and jumped from the top of a rock on Dublin Beach. for their wedding.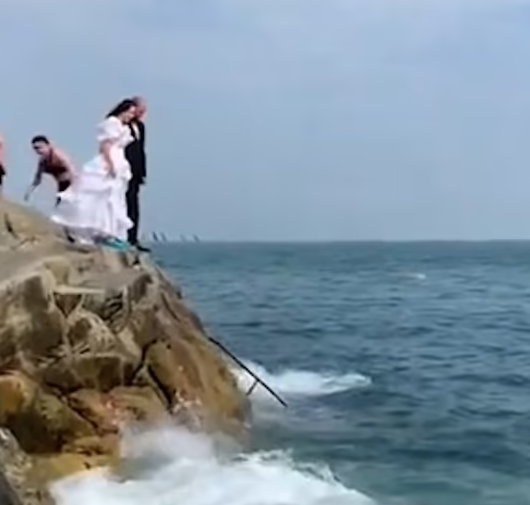 The newlyweds before the jump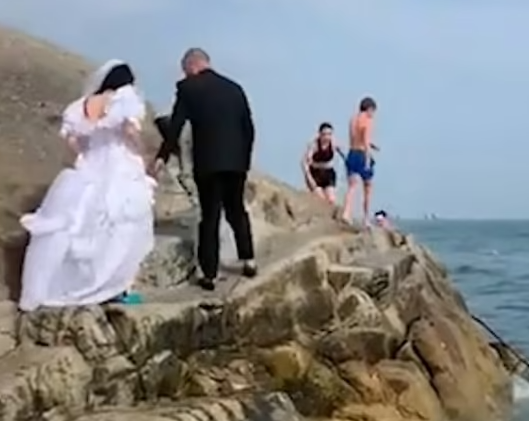 The newlyweds climb the rock
Locals stood by and watched in amazement as the newlyweds made their way to the rocky water's edge to take a dip in the water. Bride Anita, an artist from the capital, Dublin, shared a clip of her and her husband jumping into the water on social media, delighting her followers. She said, "This was the next day." For our wedding, we took the initiative to celebrate," onlookers in the video can also be heard cheering as the pair walk the rocky path.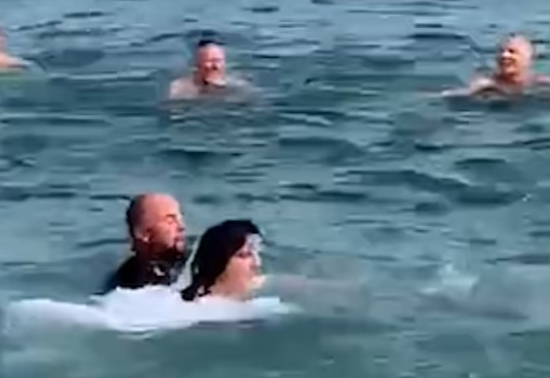 The newlyweds in the water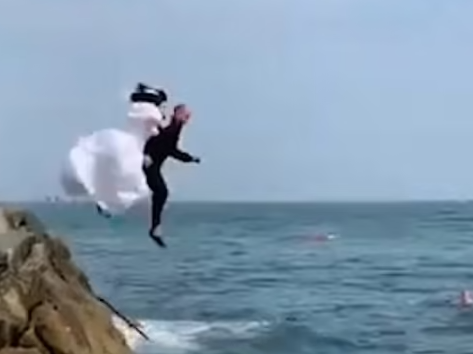 The newlyweds jumped
Several young people emerge from the water to make way for the beloved couple who look at each other before they leap in unison. In another similar incident, a Bolivian couple held their wedding of a strange kind by holding the ceremony atop a mountain in western Bolivia 6000 meters above sea level. the sea, and the newlyweds took 3 days to climb to the top of Mount Ilemani, bringing with them wedding clothes, decorations and food, and helped them in this because the weather was sunny.
And not only the couple, but several members of the wedding party were also tasked with carrying gowns, decorations and food up the mountain for the celebration – which was an extra 20kg added to their backpacks. telanganatoday.