Big technology companies, led by Facebook and Microsoft, have set out to conquer the metaverse, described by the Merriam Webster dictionary as "a highly immersive virtual world where people come together to socialize, play and work."
The metaverse is not a new concept. It was initially proposed by Neal Stephenson in his science fiction novel Snow Crash, where humans and avatars interact in a virtual environment. You may also remember Second Life, a parallel world originally populated by primary avatars, where IE University opened an auditorium, located in a virtual tropical paradise, in which most users opted for anonymity.
Predictions that don't come true
Predictions that Second Life would revolutionize the world of education and social relationships never came to pass. In my career as an educator, I have witnessed similar unfulfilled prophecies, tsunamis that would sweep over the traditional world of college education. Second Life's impact on education was minimal, although it served to ignite the imagination, while also prompting the use of simulations, gamification, and augmented reality (AR) in the educational environment. We can speak more properly of disruption that occurs over time, rather than of drastic or revolutionary changes.
When it comes to personal relationships, dating portals have proven to be a more immediate remedy for finding a partner and, while some profiles do not fully conform to reality, they are more credible than avatars.
In a similarly auspicious tone, Marc Zuckerberg has announced that the future of Facebook will be oriented towards the development of its own virtual universe and that it will change the corporate name to Meta Platforms:
"I hope that people stop seeing us primarily as a social media company, to see us as a metaverse company."
For Zuckerberg, the metaverse is "a virtual environment in which you can be present with people in digital spaces, (…) a kind of physical internet where you live the experience from within instead of just looking. We believe that this will be the successor to the mobile Internet ".
There has been speculation that Zuckerberg's announcement is simply a flight forward, in the face of growing hostility from regulators and waning popularity with young people. Also, I wonder if the generic name "Meta" could be registered, or if there would be problems with other companies that have that name.
business metaverse
However, it is relevant to state that not all social networks are the same, nor have they experienced the problems of Facebook. LinkedIn, for example, has established itself as a platform that guarantees data privacy, backed by robust protection and security mechanisms.
In any case, Facebook is not alone in seeing the social and business potential of the metaverse. Microsoft CEO Satya Nadella recently spoke about an "enterprise metaverse" made up of digital mirrors, simulated environments, and mixed reality:
"With the metaverse, the entire world becomes the canvas of your application."
The metaverse is enormously attractive: being able to live diverse lives or adopt alternative personalities, without the risks that we would face in the real world. Imagine, for example, being able to embark on the first voyage of the Titanic metaverse and being assigned the role of captain, or perhaps the owner of the ship.
In that adventure, he would interact with other passengers, some of whose profiles we know. Even if we knew the course of past events, perhaps there would be multiple uncertainties and other factors that we would not be able to foresee. We could change the final destination of the ocean liner or decrease the loss of life. However, we could also generate a more catastrophic outcome. It would certainly be a good test of leadership and a lesson in risk assessment.
The metaverse would allow us to live all kinds of adventures, recreating what one of the films in the James Bond saga said: live twice, once for ourselves and once to satisfy our dreams or channel aspirations. Life in the metaverse could provide a deeper and more immersive experience than even video games or movies.
At the same time, the metaverse has enormous potential in the educational world, offering an environment where learning could be more personalized, adjusted to the tastes and hobbies of the students, at their study pace, more entertaining and perhaps with better results in the acquisition of knowledge, individual knowledge and the exercise of certain interpersonal skills. Think, for example, of a role-playing exercise, with avatars randomly assigned based on different identities or sexual orientations.
Imagine that in real life you are a 55-year-old man and you are assigned the avatar of a 22-year-old woman, who is harassed by her boss, a situation that her colleagues tolerate. This harassment would also have consequences for the emotional stability of his avatar, which means that he could not simply inhibit himself because it is a simulation, because then he would have to justify in class if he has operated in the best way.
The metaverse could also allow us to simulate political experiments, which would otherwise be unfeasible or undesirable. For example, direct democracy, which would allow us to assess whether these collective decisions would generate the best results, whether users have enough information, whether the criteria for voting are justifiable, and whether there are undesirable dysfunctions similar to those in the real world. In developing this exercise, we would probably realize that representative democracy is the best possible system, with playful elements similar to those of a virtual world.
How to promote creativity and innovation
For me, the most attractive feature of the metaverse is how it empowers creativity and innovation, and by generating more options, it increases our space for individual freedom. As we have seen, its application to many facets of social life is limitless: education, personal relationships, business activities and work.
However, the limits of the multiverse mirror those of gamification: it simplifies reality; managers and other professionals move in a much more complex world. It is also likely that behind the algorithms that make up the metaverse there is a strict linear relationship between causes and effects that, while useful for understanding the meaning of a particular concept or model, are not a true reflection of the complex nuances of the world. business, where the application of models and systems is limited.
Additionally, cognitive biases behind many algorithms applied on similar platforms have been pointed out, including xenophobic or sexist biases.
The risks of the metaverse have been highlighted by several analysts such as Kyle Chayka, and they focus largely on the lack of transparency, honesty and responsibility of the people behind the avatars that will inhabit it. It is not a purely playful or neutral environment.
To the extent that the metaverse has some link to the real world, for example to the financial system through cryptocurrencies, there could be an incalculable impact on the life of social institutions. The same would happen with the activities that companies, organizations or individuals could carry out in that environment: could an avatar be held responsible for acts that in a physical environment would be considered fraud?
What would Thomas Hobbes think of all this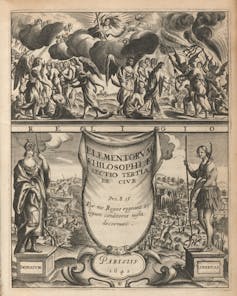 The 17th century English philosopher Thomas Hobbes lived through a particularly turbulent period in the history of his country, witnessing the consequences of weak governance, which triggered a civil war, which led him to propose that the best guarantee of social peace is locate the monopoly of force in the state. If power, and consequently the use of force to preserve it, is diluted and there are no institutions or a rule of law that guarantees how to use it, society eventually becomes a war of all against all. In this circumstance, Hobbes explains, "homo homini lupus", man becomes a wolf for man.
I think Hobbes would relate the metaverse to the state of nature, devoid of government, rules or principles, in which the power of all operators generates a convulsion similar to civil confrontation. That is why it would be advisable to think about what would be the desirable government of this new world, what institutions would be necessary, what current practices would be replicable.
Make no mistake: trusting that self-regulation makes up for the absence of a formal constituted power is a chimera, or malevolent fallacy. As Hobbes explained, political power is the depository of the social contract, that agreement of the individuals of a community about the forms of life that govern them, their rights and duties. The social contract does not work in a headless and anarchic society.
I'm curious what would happen if our avatars were more successful than ourselves. We would be facing an alternative Cyrano that ends upside down from the original story, where Roxanne really falls in love with the avatar. However, I find this story implausible. The post-pandemic world has strengthened our fondness for the physical, real world, in education, at work, and in social relationships, even among members of the younger generation, who are digital natives. So I think the winner of the contest with his eventual avatar would be Cyrano.
---
A version of this article was originally posted on LinkedIn.
---
Santiago Iñiguez de Onzoño, President of IE University, IE University
This article was originally published on The Conversation. Read the original.