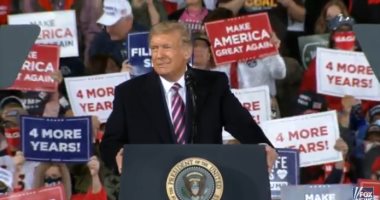 The Wall Street Journal said that President Donald Trump spent the hours after the storming of Congress at the White House in isolation and anger before publishing a video on his Twitter account condemning the violence.
The newspaper explained that Trump spent Wednesday in the White House without having access to his social media accounts, which helped him reach power, as advisers described him as being angry and increasingly isolated, and his Twitter account was closed for a while while Facebook banned him from His platform was caused by the posts that the companies said were inciting violence or undermining the electoral process.
According to the newspaper, a number of Trump's inner circle, including Chief of Staff Mark Meadows, his chief adviser Stephen Miller, White House spokeswoman Kylie McNani and the president's daughter Ivanka, urged him to make another statement, and told him that Americans need to hear directly from the president. They advised the president that it was important for his supporters to discourage the participation in violent riots in the name of Trump, especially with the approaching inauguration day.
On Thursday morning, Trump spoke very briefly on the phone at a winter breakfast meeting of the Republican National Committee in Florida, and thanked the donors for their services to the party without mentioning the incident about the riots.
The next day, Trump awarded the Medal of Freedom to golfers Anika Surmenstamm and Gary Player at a private meeting. Trump had been planning to spend the weekend at Camp David, but a senior White House official said the plans had been canceled. The officials were also planning a presidential tour of Texas next week for an event at the border.
In the moments after the crisis, Trump spent several hours on the phone and asked dozens of friends and advisors for their opinion. This was not so on Wednesday and Thursday, after many of the president's closest advisers had publicly condemned the actions of the people. He refused calls from advisers, including New Jersey Governor Chris Christie.