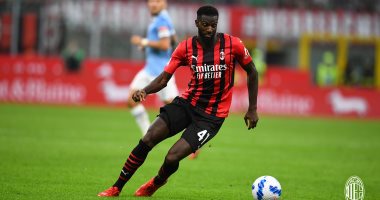 The Italian Football Association has launched an investigation into the events in the Milan-Lazio match last Sunday, where the player of the land, the French player, Timoue Bakayoko, was subjected to racist chants against him by some fans of the opposing team.
According to the newspaper (Marca), Milan submitted a complaint in order for the case to be considered, and the prosecution obtained the videos of the match, which was part of the third round of the Italian Football League, as well as Milan police reports.
The club had already revealed through its account on (Twitter) that it would file a complaint, and said, "With regard to the racist chants against our player, which came from the stands of the invitees, and after receiving alerts from journalists and fans, Milan is considering filing a complaint with the Federation."
After these events, the player himself wrote through his account on (Instagram) "To some of the Lazio fans and their racist screams towards me and my brother Frank Casey: We are strong and proud of the color of our skin. I have every confidence in our club to get to know them."
It is noteworthy that the match ended with Milan winning 2-0, signed by Rafael Liao and Zlatan Ibrahimovic in a heated match that ended with the expulsion of Lazio coach Maurizio Sarri at the end of the match.