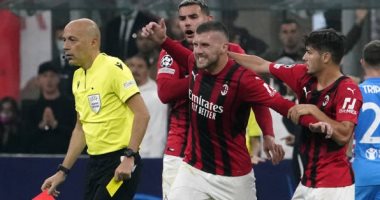 Press reports revealed that the European Football Association will take a decisive decision regarding the Turkish referee Şakir, who refereed the match between Milan and Atletico Madrid, against the background of his multiple mistakes in the match.
The Turkish referee, Şakir, made several refereeing errors during the Milan-Atletico Madrid match in the second round of the group stage of the Champions League..
The Italian newspaper, La Gazzetta dello Sport, said that the European Union will suspend Shakir after his mistakes in the Milan-Atletico Madrid match, and that he will most likely not lead a meeting with Milan in the future, and he will also be excluded from the next round of the Champions League..
The newspaper pointed out that these decisions come after the referee expelled the Ivorian, Frank Kessie, during the first half of the match in a decision that was very harsh on the midfielder, in addition to giving him a penalty kick to Atletico Madrid in the last minutes and the ball was a hand touch on the Spanish team striker, not on Rossoneri defender.
The next match for Milan will be against Atalanta on Sunday, in the seventh round of the Italian League.
Milan coach Stefano Pioli confirmed yesterday that the referee of the match, which ended with his team losing 1-2 to Atletico Madrid thanks to a penalty kick in the 96th minute, "was not the best thing in the match", and he also expressed his pride in the performance of his players in the second round. From the group stage of the Champions League.
In statements to (Sky Sport) Italian channel after the match, Pioli said, "It's a disappointment, we were close to a great result. I feel sorry. We made a great effort, we are sorry. This defeat complicates the way for us" in the Champions League.
He added: "We need to take another step that can make a difference. We missed very little and we have to live the matches clearly. We played great football for half an hour and then suffered after playing minus, only with ten players.".
Milan lost 1-2 at San Siro despite advancing thanks to Portuguese Rafael Leao, but the matter was complicated for him after Ivorian Frank Kessie was expelled after half an hour for receiving a second yellow card during the meeting, so that Atletico Madrid could return in the last minutes with a goal from the Frenchman Antoine Griezmann (84th s) and another by Uruguayan Luis Suarez (96th s) from a penalty kick..