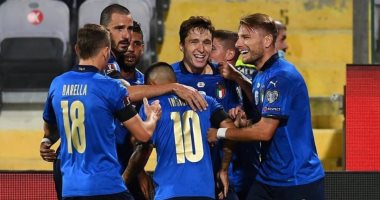 Italy will host Switzerland at 9:15 p.m. on Sunday in the fifth round of Group C matches for the European qualifiers for the 2022 World Cup.
Italy enters the match tonight, and is at the top of Group C with 10 points from 4 matches, while Switzerland is in the group runners-up with 6 points from only two matches, during which it won.
The two teams had met recently in the group stage of the last European Nations Championship "Euro 2020", during which the Italian team won by three clean points.
Italy, led by coach Roberto Mancini, fell in the last round in a draw against its guest, Bulgaria, with a goal each, while Switzerland did not play during this round.
Italy is trying not to lose in the match tonight, to achieve a record in the series of the longest unbeaten teams, after equaling in the previous match with Bulgaria the record of Brazil and Spain not losing in 35 games in a row.
In tonight's match, the Swiss national team will miss the efforts of its captain, Grant Xhaka, the Arsenal player, who was infected with the new Corona virus.
Also today, Bulgaria will meet in the same group, which is fourth in the group with two points, and will host Lithuania at home, while Northern Ireland will not play, given that the group includes only 5 teams.