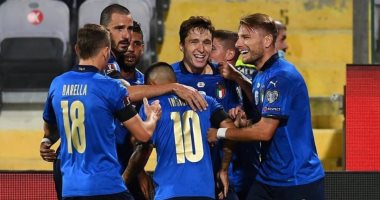 Italy will meet Lithuania in the confrontation scheduled to take place at 9:15 pm today, Wednesday, at the San Siro stadium in Milan, as part of the sixth round of European qualifiers for the 2022 World Cup in Qatar.
Italy is at the top of the standings of Group C in the World Cup qualifiers with 11 points from 5 matches, ahead of Switzerland, who is in the group runners-up with 7 points, while Lithuania is at the bottom of the standings without any points after losing in the four confrontations it has fought so far.
The Italian team, led by coach Roberto Mancini, is seeking to regain the tone of victories again, after a goalless draw against Switzerland, in the confrontation that took place on Sunday evening at St. Jacob's Park, as part of the fifth round of Group C matches.
The Italian national team also fell in the last round before the last match, in a draw against its guest, Bulgaria, with a goal each.
The Italian team is seeking to continue its record recently set, according to the Opta network for numbers and statistics, as the Azzurri entered history after avoiding defeat against Switzerland, by setting a new record ever for 36 international matches without defeat.
The Italians achieved this series through 29 victories and 7 draws between the European Nations League, European Nations Championship qualifiers, World Cup qualifiers, Euro 2020 matches and friendly matches.
The Northern Ireland team, which hosts its Swiss counterpart, will also meet in the same group, at "Windsor Park", at 9:15 pm today.