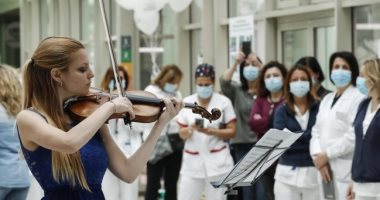 Al-Arabiya satellite channel reported, in urgent news, a short while ago, that the authorities in Italy recorded 846 deaths and 14,844 new infections with the Corona virus.
The Italian Prime Minister, Giuseppe Conte, stressed the need for more restrictive measures on the movement of citizens during the Christmas holidays to contain the emerging epidemic of the Corona virus (Covid-19).
"We have already prepared a plan dedicated to birthdays, also in light of the proposals of the scientific-technical committee," Conte said – in newspaper statements, according to what was reported by the Italian (AKI) news agency on Tuesday.
About what these measures are, Conte said, "We are studying about them in these hours. We must avoid a third wave at any cost, because it will be devastating in terms of the loss of human lives."
Conte added, "The situation is sensitive, but our measures are bearing fruit. They allow us to regain control over the epidemic curve. The system of dividing regions by color is bearing fruit. We have avoided the general closure, which is a strict measure imposed by Germany and other countries such as Britain and the Netherlands," noting that it is good. Lucky With these delicate and well-defined measures, we bear the brunt of this second wave well.