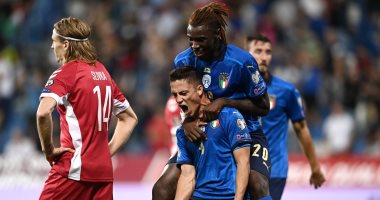 The Italian national team achieved a historic achievement after ending the first half of its match against its Lithuanian counterpart, with a 4-0 advantage, in the meeting that brings the two teams currently at the San Siro stadium in Milan, in the sixth round of the third group of European qualifiers for the World Cup in Qatar 2022. .
And "Opta", which specializes in monitoring statistics, stated that the Italian team scored 4 goals in 30 minutes against the Lithuanian team for the first time in its history.
The Italian national team scored two goals in the net against Lithuania, Moise Kean, Edgaras Otkos (a player with an own goal) and Giacomo Raspadori in the 11th, 14th, 24th and 29th minutes.
The Italian team suffers from many absences in tonight's match, such as Ciro Immobile, Marco Verratti, Nicola Parilla and Lorenzo Pellegrini, who are injured alongside Lorenzo Insigne for personal reasons.
Italy is at the top of the standings of Group C in the World Cup qualifiers with 11 points from 5 matches, ahead of Switzerland, who is in the group runners-up with 7 points, while Lithuania is at the bottom of the standings without any points after losing in the four confrontations it has fought so far.
The Italian national team started the match with the following formation:
Goalkeeper: Donnarumma
Defenders: Di Lorenzo, Accherbi, Bastoni, Biragi.
Midfield: Pesina, Jorginho, Cristante.
Forwards: Bernardeschi, Moise Kean, Rasbadori.
The Italian team, led by coach Roberto Mancini, is seeking to regain the tone of victories again, after a goalless draw against Switzerland, in the confrontation that took place on Sunday evening at St. Jacob's Park, as part of the fifth round of Group C matches.
The Italian national team also fell in the last round before the last match, in a draw against its guest, Bulgaria, with a goal each.
The Italian team is seeking to continue its record recently set, according to the Opta network for numbers and statistics, as the Azzurri entered history after avoiding defeat against Switzerland, by setting a new record ever for 36 international matches without defeat.
The Italians achieved this series through 29 victories and 7 draws between the European Nations League, European Nations Championship qualifiers, World Cup qualifiers, Euro 2020 matches and friendly matches.