Ivanka Trump, the daughter of US President Donald Trump, and his advisor, confirmed that the Americans need more help, indicating that Congress must provide it, saying: "Thanks to President Donald Trump, we got a vaccine, and we still need money to distribute it, and we must continue to provide help to the Americans. Who have been demobilized. "
Ivanka Trump said in a tweet on her official Twitter account:Americans need more help and Congress needs to provide it, thanks to Trump, We have a vaccine and we need the money to distribute it. We need to restart the Salary Protection Program to save businesses and small jobs in our counties. We need to continue to bring relief to the Americans who have been laid off. "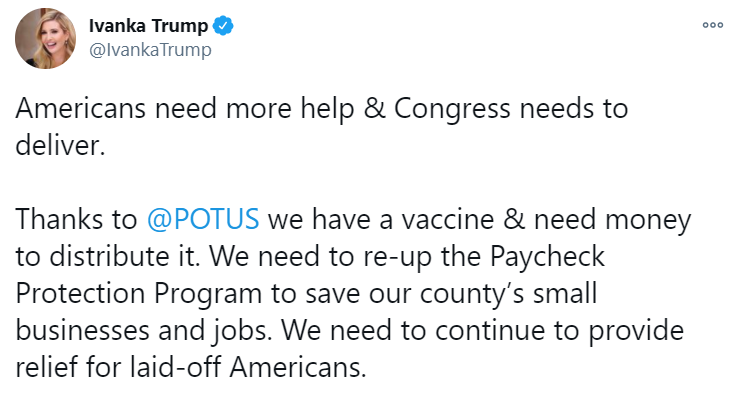 Ivanka Trump
In another context, Ivanka Trump, the eldest daughter of US President Donald Trump, and his advisor at the White House, confirmed that the "Farmers for Families" program provided 3.2 billion meals to hungry American citizens, and Ivanka tweeted on her Twitter account, saying: "Through a food box." Farmers for families 125 million boxes of fresh agricultural products, meat and dairy products were delivered to 16,000 food banks, NGOs and religious organizations.
The British newspaper "The Guardian" said that there are expectations about Ivanka Trump's career in the post-White House period now in Florida, where it was reported that the first daughter and senior aide of US President Donald Trump had bought an expensive plot of land for a house and might consider running for the Senate.
Ivanka Trump is often referred to as wanting a political career of her own, and during her tenure with Donald Trump has sought to present herself as a more media-friendly version of her father, and US media reports focus on Florida – where Donald Trump owns the Mar-Lago resort as a base. Potential for his daughter to start her own political career.
A source told the network CNN: "Ivanka definitely has political ambitions, there is no doubt about that." She wants to run for something, but this is still not announced yet.