Two newlyweds punished each person who did not attend their wedding, which was held in Jamaica, especially those who confirmed their attendance more than once, and the newlyweds sent each person who did not attend the wedding a bill of $ 240.
The Spanish newspaper, El Periodico, said the couple, Doug Simmons and Deedra McGee, sent the bill with a written message: "This bill has been sent to you because you confirmed your seat at the wedding, and the amount indicated is the individual cost of your seat, since you did not call us or notify us that you will not attend. This is the amount you have to pay for your seat. Call us and tell us what payment method is right for you. Thank you."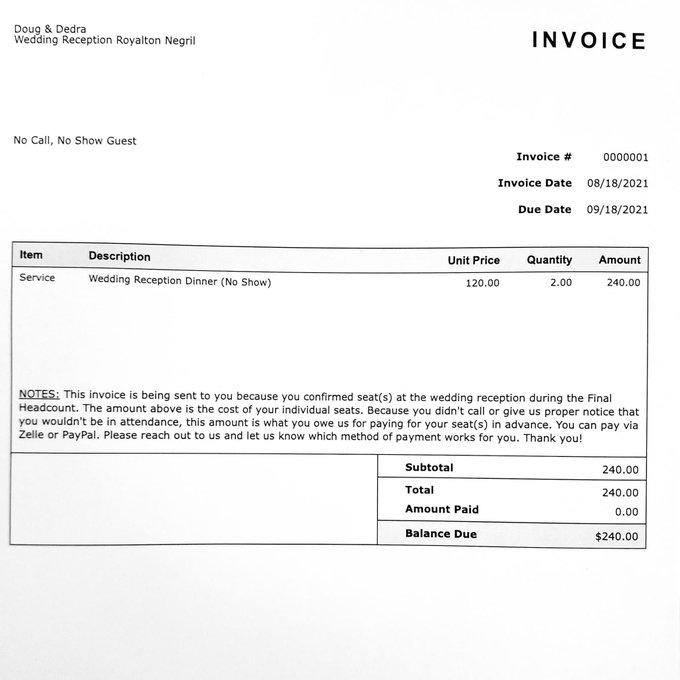 invoice
The newspaper pointed out that the newlyweds wrote on the same invoice the expiry date of the receipt, which is one month from August 18, meaning that they still have a little more than 18 days to pay the amount required by the couple.
This bill sparked great controversy on social media, as many Twitter users saw it as a fake bill, but Doug Simmons and Deidra McGee confirmed that their wedding ceremony in a Jamaica hotel was at a cost of $120 per person, as shown in the bill.
Simmons, a small business owner in Chicago, confirms that "it's not about the money", but they "felt hurt and didn't feel respected by the absent guests", in addition, he explained that they asked more than 4 times people if they could attend, "Do Are you available to come? Can you come? They made sure to come every time."