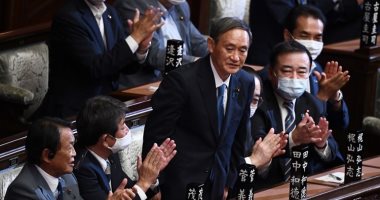 Today, Monday, Japanese Prime Minister Yoshihide Suga denied that there is a need to declare a state of emergency in the country again, despite the recent rise in new cases of the Coronavirus and the total number of infections exceeded the 200,000 mark..
With the country's health experts warning that the health system is under stress, Suga said in a television interview that his government may ask restaurants and bars to reduce working hours in an effort to curb the spread of the virus, according to what was reported by the Japanese "Kyodo" news agency..
"Kyodo" indicated that Suga refrained from repeating the decision taken by his predecessor Shinzo Abe last April to declare a state of emergency throughout the country, pledging instead to strike a balance between fighting the epidemic and resuming economic activity..
Also, Suga, whose government's performance has decreased amid public dissatisfaction with its response to Covid-19, has already pledged to buy enough vaccines by the first half of 2021, as his government has contracted with Pfizer and AstraZeneca to buy 120 A million doses of each are sufficient for the majority of the country's population of 126 million, and it has contracted with Moderna for another 50 million doses..
Japan has recorded record numbers of daily Covid-19 infections since the end of last month, so that the total confirmed cases in the country exceeded the 200,000 mark today, Monday, after doubling in less than two months, while it had crossed the first 100,000 after 9 and a half months, as it was recorded. The country has fewer than 3 thousand deaths from the virus so far.
On the other hand, Suga said during the interview that he does not intend to dissolve the House of Representatives and hold early general elections until Japan fully controls the outbreak of the Coronavirus..
The prime minister's opportunity to call early elections diminishes gradually with the end of his term as leader of the ruling Liberal Democratic Party in September next year, while the current four-year term of the House of Representatives ends the following month, according to Kyodo.