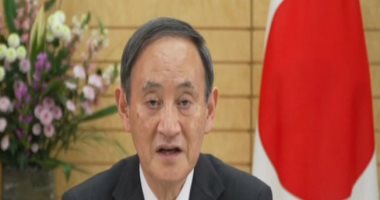 Japan said on Monday it would consider declaring a state of emergency in the greater Tokyo metropolitan area as coronavirus cases rise, raising fresh questions about whether it can go ahead with hosting the Olympics and limit the economic damage.
The emergency declaration would represent a policy change by Prime Minister Yoshihide Suga, who has resisted any such drastic moves despite criticism that the government is moving too slowly.
Japan recorded a record number of 4,520 new infections on December 31, prompting the capital, Tokyo, and three neighboring provinces to request an emergency declaration from the national government. The Japanese Radio and Television Corporation said that the country recorded 3,158 new infections on Sunday, about half of which were in Tokyo and its suburbs.
"Even during the three days of the New Year holidays, cases did not decrease in the greater Tokyo area," Suga told a news conference.
"We felt it was necessary to send a stronger message," he added, when asked to explain why he had changed his position on the possible declaration of emergency.
He did not say when the government would take a decision or what the new restrictions would be. The first state of emergency, declared last spring, lasted more than a month, during which schools and non-essential businesses were closed.
Since the start of the pandemic, Japan has recorded more than 245,000 infections and nearly 3,600 deaths.