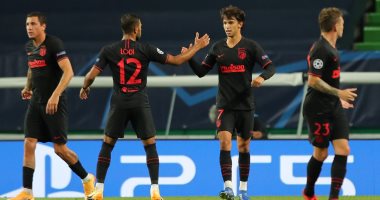 The Portuguese Joao Felix, Atletico Madrid striker, confirmed that his performance "started to return to what it was" before the injury, which led to an operation on his right ankle in July, which was evidenced in the match he played against Espanyol, where he felt that he was in "good" condition. ".
"I felt good, I haven't felt good for a long time," said Felix, 21, in comments provided by the club.
He added, "I am free to do moves that didn't hurt me before and now they don't hurt me. My performance is back and I hope to be more ready than ever to participate in this tournament."
The "Atletti" striker had been feeling pain in his right ankle for several months until he ended up having an operation on July 2 in Porto, after ending his participation in the European Nations Championship with the Portuguese national team.
In this regard, the Portuguese said: "It is not easy to play when you are not feeling well, but I did it with my own will and trying to help the team. Now I am healthy and have recovered and focus only on this season and the next match."
The return of the young star comes before Atletico play their first match in the Champions League in a group that includes three European champions: Liverpool, Porto, and AC Milan.
"We have a difficult group, teams that are the best in their country, and they will always be very close matches and we will do our work to get the three points," Joao said of Wednesday's match against Porto at the Wanda Metropolitano.
Regarding the opponent, Felix said: "I know the team well, its characteristics and the way it plays, so I am ready for this match."
Wednesday's match will be the Portuguese star's first match with "Rojiblancos" in the presence of an audience at the Wanda Metropolitano stadium since the period before the epidemic, which is what arouses his passion a lot, according to his statements.