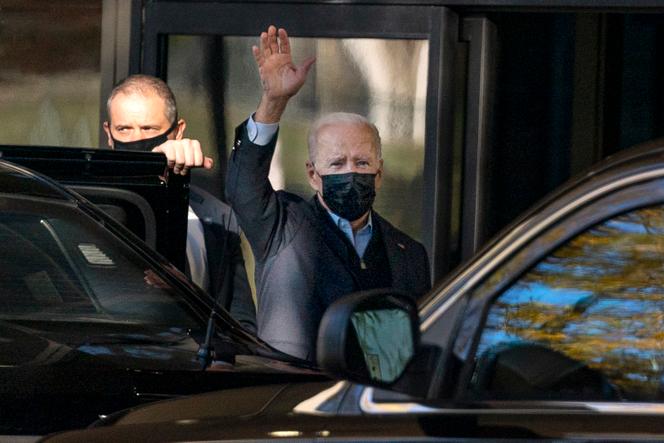 Hillary Clinton dreamed about it, Kamala Harris will do it. In the space of a few hours, the Vice President of the United States should be the first woman to temporarily and formally assume presidential prerogatives in the country, Friday, November 19. President Joe Biden, who turns 79 on Saturday, visited Walter Reed Medical Center near Washington during the day to "Have a routine colonoscopy", the White House said. The examination taking place under general anesthesia, its powers are transferred temporarily to its vice-president, specified the presidency.
"As was the case when President George W. Bush underwent the same intervention in 2002 and 2007, and in accordance with the procedure provided by the Constitution, President Biden will transfer his powers to the Vice President for a short period, while he is under anesthesia ", detailed the executive.
The Twenty-Fifth Amendment to the Constitution of the United States, passed on February 23, 1967, establishes the procedures for filling a possible vacancy in the office of President by the Vice President.
Mr Biden, who does not smoke or drink, is fully vaccinated against Covid-19, and received his third dose at the end of September. He is the oldest president in US history and has made it public that he plans to run for his own succession in 2024. But his age is fueling speculation that he might step down.
Crucial step taken at Congress
The times and duration of this transfer of power will be known at the end of the intervention, said the White House. This review "Routine", intended to identify abnormalities of the colon, is part of the first check-up of the president, who celebrates his 79 years on Saturday.
Details of his health check will be released in the afternoon, the US executive said.
This examination comes after the vote, in the morning, by the House of Representatives of the gigantic plan of social reforms of President Joe Biden, the first crucial step before its examination by the Senate, where its adoption promises to be difficult. The text of Build Back Better, a vast social and environmental plan of 1,800 billion dollars, was adopted by the House of Representatives, with a Democratic majority, a few days after the signing by Joe Biden of his great infrastructure law.
This vote "Is another giant step in the pursuit of my economic program, to create jobs, reduce costs, make our country more competitive and give workers and the middle class a real chance of success", can we read in a press release.
Read also
Article reserved for our subscribers

Joe Biden, believing and self-taught intellectual