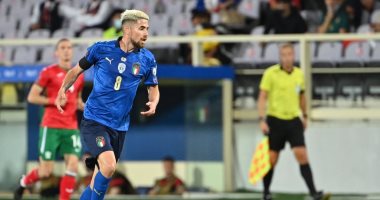 Chelsea midfielder Jorginho will wear the captain's armband for the first time with the Italian national team this evening, when the Azzurri team faces its Lithuania team at 9:15 pm on Wednesday, becoming the first Italian captain "naturalized" since 1960, where his native country is Brazil.
The senior Azzurri players suffered many injuries, and Jorginho is one of the only experienced players in the starting lineup at the "Mappi" stadium in Reggio Emilia, so the Chelsea midfielder was chosen as a captain, according to the "Football Italia" network.
This will be the 38th participation for the 29-year-old, who was born in Brazil and moved to Italy at the age of 15, the first time he has worn the captain's armband for the Azzurri, but also makes him the second Italian from a country other than Italy to captain the Azzurri national team.
The other is Miguel Angel Montori, who captained Italy twice in 1959 and 1960. Monturi was born in Argentina and spent most of his career at Fiorentina from 1955 to retirement in 1961, which forced him to suffer double vision.
He played 12 international matches with Italy, scored two goals, and was the captain of the team during a friendly match against Spain in February 1959 and another test with Switzerland in January 1960.
The Italian team suffers from many absences in tonight's match, such as Ciro Immobile, Marco Verratti, Nicola Parilla and Lorenzo Pellegrini, who are injured alongside Lorenzo Insigne for personal reasons.
Italy is at the top of the standings of Group C in the World Cup qualifiers with 11 points from 5 matches, ahead of Switzerland, who is in the group runners-up with 7 points, while Lithuania is at the bottom of the standings without any points after losing in the four confrontations it has fought so far.