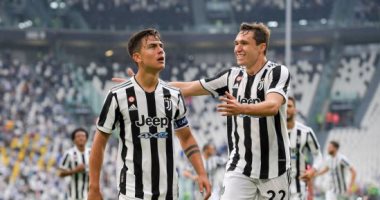 Juventus defeated Sampdoria 3-2 in the match that brought them together this afternoon, Sunday, in the sixth round of the Italian Serie A competition at the Allianz Stadium.
Juve dominated the events of the first half, and outperformed its rival Sampdoria in attack.
Argentine Paulo Dybala surprised Sampdoria with a first goal in the 10th minute of the first half, to put Juventus in the lead.
Paulo Dybala suffered a severe injury during an attempt to cut the ball from the Sampdoria player, without the latter's intervention on him, which led to his injury in the 21st minute of the match.
Paulo Dybala broke down in tears the moment he left the stadium for the Juventus match against Sampdoria, due to an injury that threatens to catch up with Chelsea in the Champions League.
Leonardo Bonucci scored the second goal for Juventus against Sampdoria, in the 43rd minute, from a penalty kick.
Sampdoria reduced the difference with Juventus with a surprise goal in the 44th minute of the first half, with the feet of Maya Yoshida.
And Juve continued to put pressure on the Sampdoria goal, until Locatelli added the third goal of the old lady in front of the guests in the 57th minute.
In the 84th minute, Antonio Candreva surprised the Sampdoria star with the second goal of the Sampdoria team.
With this result, Juventus raises its score to 8 points in ninth place in the Italian league standings, while Sampdoria's balance freezes at 5 points in 14th place.