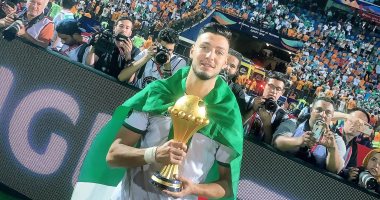 Press reports revealed that the Algerian star, Rami Ben Sabaini, player from Borussia Moenchengladbach, comes at the top of Juventus' interests, in anticipation of joining his ranks in the next winter Mercato..
The Algerian desert warrior shone in particular in his adventure with Borussia Moenchengladbach, where he imposed himself as one of the most prominent stars of the last edition of the German League.
And "Football News 24" confirmed that Massimiliano Allegri, the coach of the old lady, is pressuring the management of his team to sign Ben Sabaini in the winter Mercato.
Juventus is seeking to find new solutions in the left-back position, in light of the decline in the performance of the Brazilian Alex Sandro, and the lack of experience of the Italian Luca Pellegrini..
Bin Sabaini's performance has witnessed a qualitative leap in tactical terms since his move to the German League, as his physical level improved significantly with Borussia Moenchengladbach, which helped him to avoid his tactical shortcomings..
Ben Sabaini was present during the last summer Mercato on Rome's radar, but the deal failed mainly for financial reasons..
The flying back of the Algerian national team has great European experience, which he gained from his participation with his former club, Stade Rennes, and the current, Borussia Moenchengladbach, in the European League and the Champions League..
The marketing value of Ben Sabaini reached about 22 million euros on the "Transfer Market" exchange, and he also has 215 games to his credit in various competitions, in which he scored 20 goals and gave 7 assists.