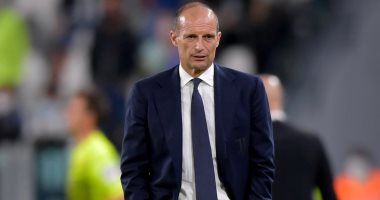 Massimiliano Allegri, coach of the Italian club Juventus, confirmed that he bears the responsibility for the Juventus draw with its guest AC Milan, with a goal each, in the confrontation that brought them together this evening, Sunday, at the "Allianz Stadium", in the top of the fourth round of the Italian league competition. For the current season 2021-2022.
And Allegri said, in his statements after the match: "I accept this result because in the changes I made mistakes, I should have brought in more defensive players, because the match was at my disposal, I made a mistake."
Allegri added: "Tonight I am very angry about what happened, we risked losing after a 1-1 draw, before we were in complete control," explaining, "Fortunately, the referee blew the final whistle, otherwise we would have lost the match."
"It was an important match tonight and it was important to get a positive result, it was more important for Milan because their victory meant keeping us further away from the top teams," the Juventus coach continued.
And Allegri added: "If you want to win trophies, you should not draw in such matches, with all due respect to Milan, but we scored their goal ourselves."
"We need to be more united, play as a team and be smarter. For the match I'm happy with how we prepared for it, but we had to be tougher and not concede any goals."
Milan now shares the top spot in the Italian league standings with its neighbor Inter Milan, with 10 points each, while Juventus is relegating to the eighteenth place in the standings this season with two points, after failing to achieve any victory in the competition so far.
Milan's series of victories, led by coach Stefano Pioli, which he achieved this season, stopped after a draw with Juventus, after he scored 9 points from his first 3 matches.
At the top of Juventus, Milan missed many stars, led by: Zlatan Ibrahimovic, Olivier Giroud, Bakayoko, Calabria.