Next October, the Italian Juventus team will play 6 fiery confrontations in the Italian League and the European Champions League, during which it is looking to improve its local ranking in addition to continuing its successful career in the continental championship.
Juventus will open its matches next October with the derby match against Torino, which will be held after tomorrow, Saturday, in the seventh round of the Italian Serie A championship for the current season 2021/22.
After that, Juventus will return to face Roma in one of the team's strongest matches in the Italian League on Sunday, October 17, in the eighth round of Calcio.
Juventus
Juventus will then enter the third round of the Champions League group stage when it meets Russia's Zent Saint Petersburg on Wednesday, October 20.
On Sunday, October 24, Juventus will be on a date to host Inter Milan in the ninth round of the Italian Serie A championship for the current season 2021/22.
Juventus will meet Sassuolo in the tenth round of the Italian League on Wednesday, October 27.
Juventus will conclude its matches next October against Hellas Verona on Saturday 30th of the same month in the 11th round of the Italian League.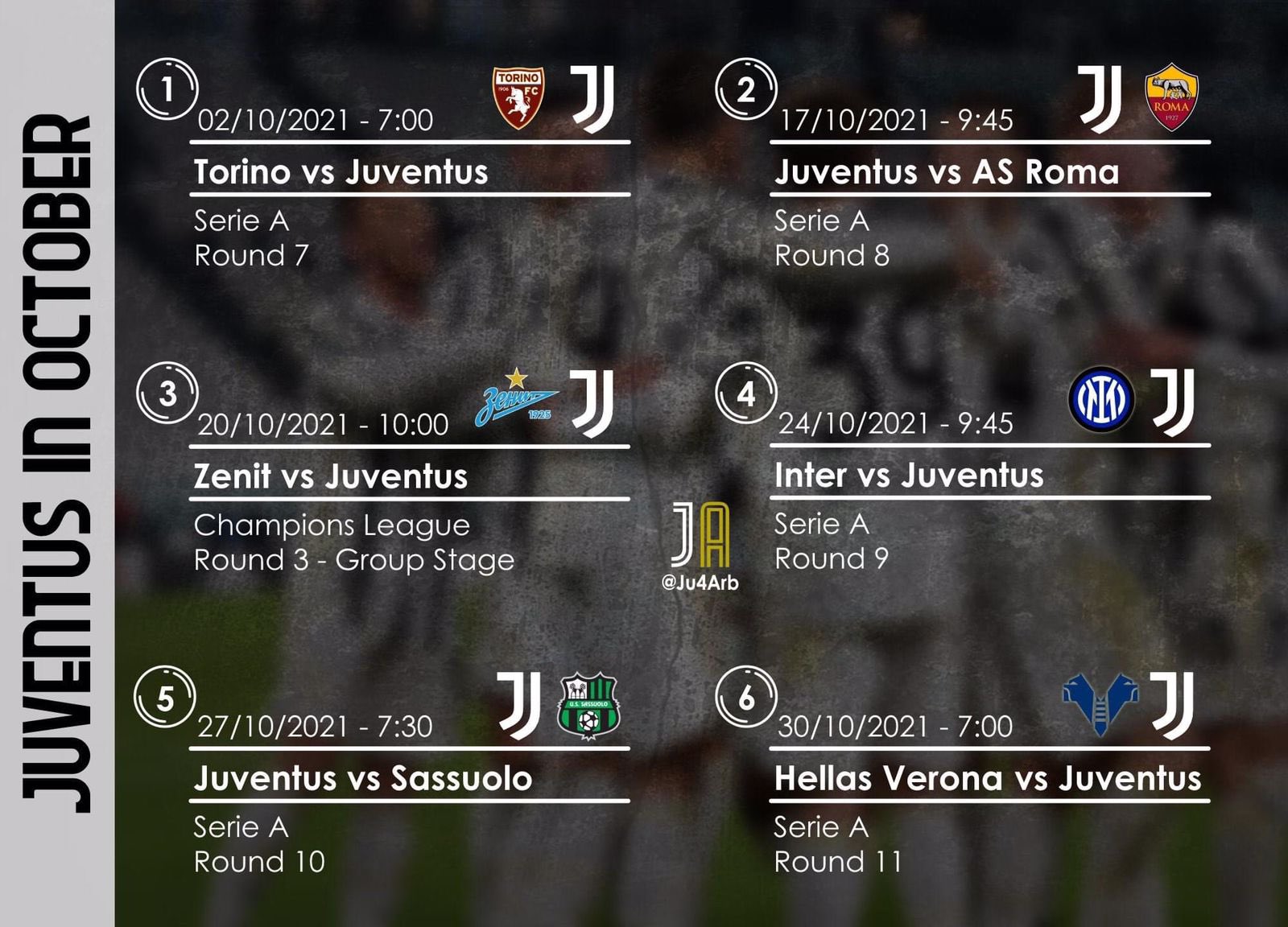 Juventus matches
Juventus
The Italian team, Juventus, achieved a difficult victory at the expense of its guest, Chelsea, with a score of 1-0, during the match that brought the two teams together yesterday evening, Wednesday, at the Allianz Stadium, in the second round of the eighth group of the group stage of the Champions League competition for the current season 2021-2022.
Juventus
The only goal came through the team's star Federico Chiesa in the 46th minute, the first minute of the second half, in a quick attack that the Italy star scored in the net just 10 seconds after the start of the second half, and this goal is the fastest goal for Juventus in the second half of the Champions League matches. Europe.
Juventus coach Massimiliano Allegri played a purely defensive way, as Alvaro Morata and Moise Kean, strikers, sat on the bench, which made matters more complicated for Lukaku and Chelsea stars to score.