Kamala Harris became the first sitting vice president to march in a Pride event on Saturday as she and her husband, second gentlemen Douglas Emhoff, surprised the crowd with an appearance at the Capital Pride Walk and Rally in Washington, D.C. 
"We need to make sure that our transgender community and our youth are all protected," Harris told marchers of the LGBTQ movement while wearing a pink blazer and a white T-shirt that said, "Love is love." 
"We need, still, protections around employment and housing. There is still so much more work to do. And I know we are committed and we understand the importance of this movement and our roles of leadership in this ongoing movement. Happy Pride Day!" she said to cheers.
The vice president stressed the importance of passing the Democrats' Equality Act, which would ban discrimination on the basis of sexual orientation or gender identity, WRC-TV reported.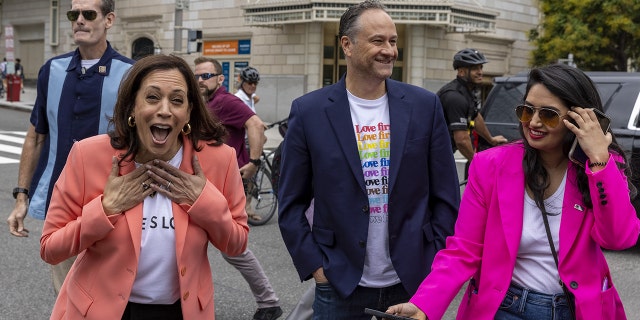 Harris also commemorated the anniversary of the Pulse nightclub shooting in Orando, Florida, on June 12, 2015, that left 49 people dead. 
"Five years ago, 49 LGBTQ+ people and allies were enjoying an evening out at Pulse Nightclub," she tweeted. "And then, in an instant, they were gone. Today, we remember those who died and their loved ones—and we recommit to building a world free from gun violence."
Harris has participated in other Pride events in the past, most recently in 2019. All in-person Pride celebrations were canceled in 2020 because of the coronavirus pandemic.