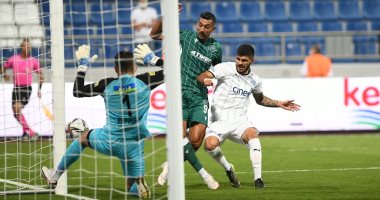 The Turkish Konyaspor team, which includes Egyptian striker Ahmed Hassan Koca, tied 2-2 against its host, Kassem Pasha, during the match that brought the two teams together this evening, Monday, at Al-Akhir Stadium, in the seventh round of the Turkish League.
Kuka scored Konyaspor's first goal in the 18th minute during the match in which he is participating for the first time since joining the Turkish team last August. It is his first goal in the Konyaspor shirt. Kuka participated from the start of the match until the 61st minute only.
In the 22nd minute, Radar Guerler scored the second goal for the visitors, before Michal Travnik reduced the goal to reduce the difference for Kassem Pasha in the 29th minute, before Bozuk scored the equalizer for Kassem Pasha in the 63rd minute from a penalty kick.
With this result, Konyaspor occupies sixth place in the Turkish league table with 13 points, while Kasimpasa occupies 16th place with only 6 points.
Konyaspor team tied with Trabzon positively 2/2 in the match that was held between them this evening, Thursday, at Konya Ataturk Stadium, as part of the sixth round of the Turkish League Championship for the current season 2021/2022..
The goals of the match were scored by Andrei Sekesi for Konyaspor in the 20th and 46th minutes, respectively, while Trabzon's goals came through Andreas Cornelis in the first minute, and Amir Hadziahmetovic in his own net in the 76th minute..
The match witnessed the participation of the Egyptian international Ahmed Hassan Koca in 33 minutes during the match, after he participated as a substitute, as he remained throughout the first half on the bench..
GOL | Kasımpaşa 0-1 Konyaspor

⚽️ 18′ Ahmed Hassan

Anlık goller ve önemli pozisyonlar için @TheGreatHubTR pic.twitter.com/gmxvfnkvzI

— Takip GoalhubTR (@Golat90) September 27, 2021