Inactivity in a sitting or sleeping position takes a heavy toll on your joints and may lead to stiffness that may also increase the risk of serious diseases, such as deep vein thrombosis, and according to a report by the Times of India, sitting while sleeping may be comfortable, but it can lead to Joint stiffness and back pain.
According to the report, being immobile in one position can cause back and body pain, which can also ruin our postures. Immobility can also lead to stiff joints and may have painful repercussions. Stretching is a great way to improve flexibility and posture and prevent joint stiffness in While lying in bed to sleep may help us stretch our limbs and joints, sleeping while sitting can impair circulation and restrict movements, leading to further complications..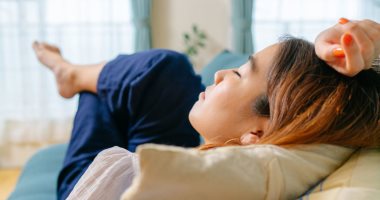 Sleeping while sitting can also make you more susceptible to deep venous thrombosis, which occurs when a blood clot, also known as a thrombosis, forms in one or more of the deep veins in your body, especially the legs. Falling asleep while sitting, without movement at all.
Left undiagnosed or untreated, this can lead to an emergency situation and even death in extreme circumstances The greatest risk occurs when part of the clot breaks off and travels to the lung or brain, causing significant damage, causing sudden death.
The main symptoms of deep vein thrombosis:

– Swelling and pain in the calf, ankle or foot muscles
– Warm, red skin caused by inflammation
– Sudden pain in the ankle or foot
Are there benefits to sleeping sitting upright?


It is always recommended to resort to a recliner, if you want to sleep while sitting while one should avoid this sleeping position, it may be helpful for pregnant women, as they find it difficult to fall asleep lying down. It is also a great way to sleep for people with sleep apnea, a disorder In sleep, which occurs when a person's breathing is interrupted during sleep, it can also relieve acid reflux and may help people with digestive issues sleep more efficiently..