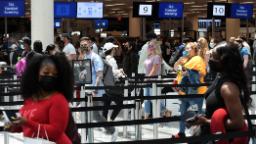 Here's a list of some indicators that the United States is recovering from the pandemic.
The
airline business is surging
, so much so
that the Transportation Security Administration has asked some of its
office workers to help
security officers with a surge of summer travel at the nation's largest airports.
And while airlines still haven't quite hit their pre-pandemic numbers, eased Covid-19 restrictions point to hope for the future of the industry.
Lipstick sales are up
People are buying dresses again
Stores dropping mask mandates
Companies want employees in the office
Job openings are skyrocketing
Wedding season is back in action
Correction: A previous version of this story stated that 300 million people in the US have received at least one dose of a Covid-19 vaccine. This version clarifies that 300 million doses of the vaccine have been administered.
Source link